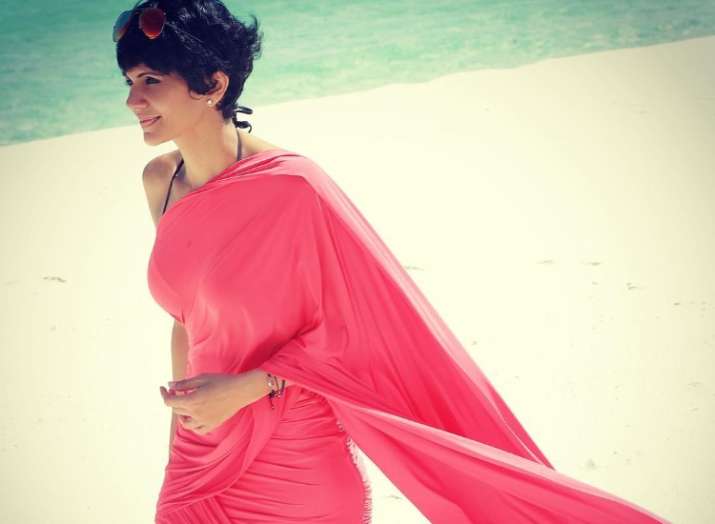 Looks like trolling has become the favourite pass time for all the netizens, After Hina Khan and Sonam Kapoor, the trolls have targeted actress-model Mandira Bedi for posting a pic in a bikini from her work-turned-vacation. Mandira took to her Instagram to post a gorgeous picture of herself cladded in a blue bikini and the hateful comments started pouring in.
Mandira wrote, "My first selfie in beautiful Crete. Got a few precious moments for some gym and beach time before the whirlwind begins."
People called her 'disgraceful', "disgusting" and "vulgar" and even invoked her 'upbringing' in the comments. One user said, 'Plz aap khana kha liya karo... Haddiyo ka kankal lagti ho...' and the another wrote, 'Looking very cheap. There are better ways to up your market, than posing in semi-nudes. Show some decency.'
While netizens were busy trolling her for her body, another set of people poured in all the positive thoughts and wrote, "Hot ! People who troll have nothing better to do . Shrug it off ! You should be comfortable in your own body." Another user wrote, "Looking fit and great skin tone Mandira . Always positive."
Mandira didn't back down from any of the trolls and posted another set of adventurous pictures from her stay in Crete.
Mandira has always been a fitness enthusiast. Earlier she shared a photo from the fashion show on Instagram in which she is seen doing push-ups on the ramp, a part of whose caption read: "I love sport and fitness is a super-important part of my life and so... finding the ultimate support is sometimes tough.
(Also read: Mandira Bedi posts swimsuit pictures, gets trolled again but doesn't give a dime!)