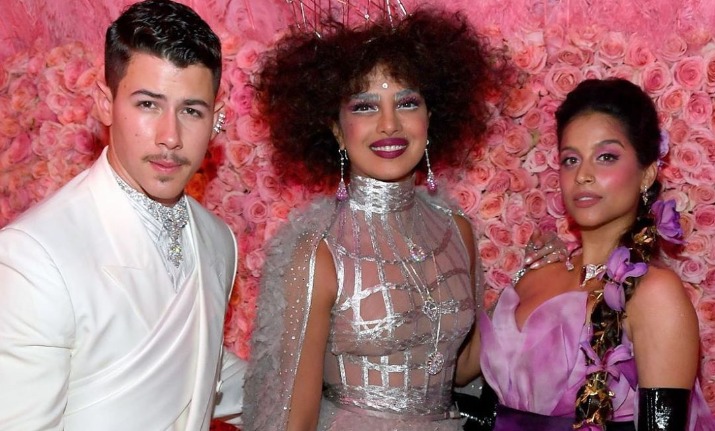 YouTuber Lilly Singh is the Queen of Captions, going by the pictures she've been sharing for the past two days. The Indian-Canadian was one of the honoured guests present at Met Gala 2019 where she got the chances to meet Bollywood actresses Priyanka Chopra and Deepika Padukone. While she tripped on several chairs to meet DP, getting a picture with Priyanka must have not been so difficult, since she happens to be close friends with the actress. Lilly Singh was also one of the few guests at Priyanka Chopra and Nick Jonas' wedding in December. At Met Gala 2019, she shared the frame with Priyanka Chopra and her husband Nick Jonas. 
Sharing the picture on her official Instagram, Lilly Singh claims that she's the adopted Indian-Canadian daughter of Priyanka and Nick. She wrote, "Photographed here, Nick Jonas and Priyanka Chopra adopt Indian Canadian daughter and enjoy an evening of dress up together. Rumours say a "tea party" is to follow." 
Earlier, she wrote another witty caption while getting a picture with Deepika Padukone. She revealed how excited she was to know that DP is in the house. She wrote, "Searched the entire #MetGala, knocked over 6 chairs with my dress, got stepped on by 16 people and got a cramp... to find my sister @deepikapadukone and give her a hug. Worth it." 
Deepika Padukone replied to her picture and wrote, "the next time...just call!easier way to find me!love you sista!" 
the next time...just call!easier way to find me!🤣🤣🤣🤣🤣 love you sista! @IISuperwomanII https://t.co/SlpalbQkV6

— Deepika Padukone (@deepikapadukone) May 7, 2019
Deepika Padukone and Priyanka Chopra even partied together along with Nick Jonas, Natasha Poonawalla, Anaita Shroff Adajania after Met Gala 2019. The pictures from the Met Gala after party were doing rounds on the internet.