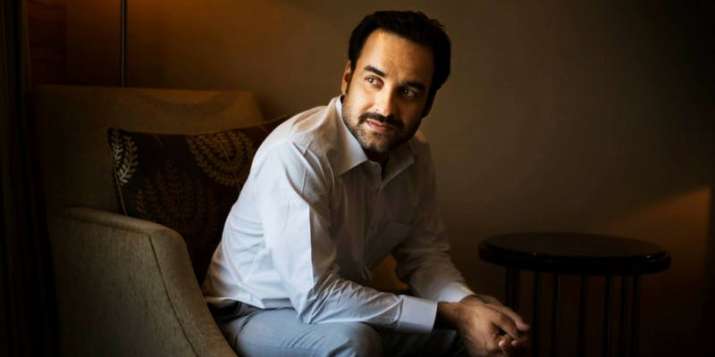 Special Mention at the 65th National Awards has brought responsibilities for Pankaj Tripathi. The actor received the award for his performance in Newton, a dark comedy on the electoral system of India, which also won the National Award for Best Hindi Film. Tripathi, who played a paramilitary officer in the movie is happy that the highest recognition to his art has come through this meaningful film.
"I have been associated with the industry in one way or the other for almost 20 years now but my craft has got recognised through Newton which was also nominated for the Oscars... But the National Award has given me much more happiness than any international acclaim," said Tripathi, who was on a shooting schedule recently in Lucknow. "The National Award is a matter of pride for me and it has also increased my responsibilities towards the country... My effort from now on will be to do cinema which gives a message to society," Tripathi. 
Besides Newton, the actor was seen in a string of films such as Bareilly Ki Barfi, Anaarkali of Aarah, Kaalakaandi, Fukrey Returns, Munna Michael, Coffee with D and Gurgaon last year. "In the recent past, I had been doing two commercial and two off-beat films yearly... I will continue to do commercial films but will be more alert is choosing the subjects from now on... I will make a conscious effort to pick up roles which give a social message besides being entertaining," Tripathi said, adding that Masaan and Nil Batte Sannata were two such films. 
Tripathi, who had set out with dreams of making it big from Belsand village in Gopalganj district of Bihar to Delhi in 2001, via National School of Drama and finally landing in Mumbai in 2004, said that people first noticed him in Gangs of Wasseypur though he had done a large body of work before the Anurag Kashyap-directed cult film released. 
"It was Sultan Qureshi, the character of Gangs of Wasseypur which brought success as a baddie but it were the TC and teacher's roles in Masaan and Nil Battey Sannata that broke the villain's mould and helped me successfully explore the other shades - be it comedy, intense or serious, surprising the audience all the time," he said. 
"Though I have been acclaimed for Newton, but my personal favourite is Gurgaon," he added. Terming Uttar Pradesh lucky for him as two films - Bareilly Ki Barfi and Nil Battey Sannata - shot here also went on to become commercially successful. The actor said it was during his stay in Lucknow that he got the news of getting a Special Mention at the National Awards. 
Tripathi was shooting for Anubhav Sinha's Abhi Toh Party Shuru Hui Hai, a light-hearted film on Indian politics, in which he plays a politician. He will also be seen with Rajnikanth in Kala and is also working in Karan Johar's Drive, while some other off-beat subjects are also in the pipeline. 
(With PTI inputs)
For all latest news, keep checking our Facebook page