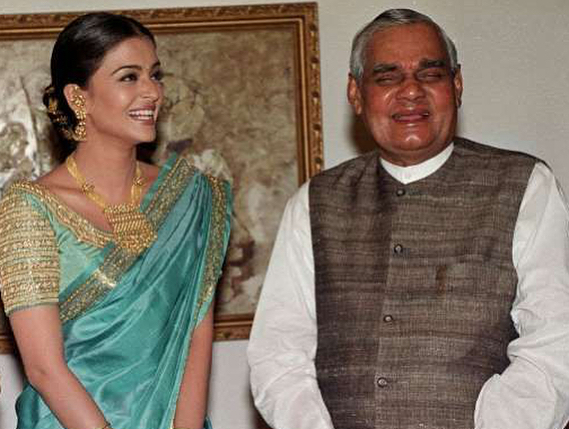 Bollywood beauty Aishwarya Rai Bachchan paid a tribute to late former Indian Prime Minister Atal Bihari Vajpayee on Sunday by sharing a throwback picture with him on her Instagram. The actress took to Instagram and posted several pictures with the former Prime Minister where both can be seen sharing some good laugh.
She captioned it "Respect. Rest In Peace"
Earlier, many others B-town celebrities, including Amitabh Bachchan, Lata Mangeshkar, Sachin Tendulkar, to name a few, paid their last respect to Vajpayee and addressed him as the gem which the nation has lost.
Born on 25 December 1924 in Gwalior, he was the only politician who thrice served the position of Prime Minister. He was also the only parliamentarian to be elected from four states- Uttar Pradesh, Gujarat, Delhi and Madhya Pradesh. Atal Bihari Vajpayee was conferred Bharat Ratna, India's highest civilian honour by President Pranab Mukherjee in 2014. The BJP leader not only participated in movements during Emergency in 1975-77 but also went to the jail in 1942 during the freedom struggle.
Vajpayee, the 10th prime minister of India, breathed his last on August 16. The 93-year-old died at the All India Institute of Medical Science (AIIMS) following a prolonged illness. He was cremated on August 17 with full state honour at Smriti Sthal in New Delhi.