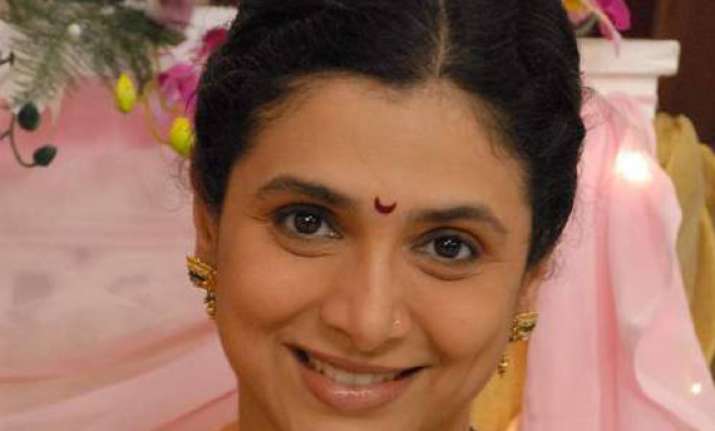 Mumbai, Jun 7: 'Tu Tu Main Main' famed Supriya Pilgaonkar has always done positive roles on-screen and the actress now feels that she needs to break through her image and experiment.
The 45-year-old, who has been in the industry for a decade, started her career by playing a daughter-in-law in the hit 1996 comedy sitcom and over the years has been seen in mature roles of a mother and mother-in-law.
She says a change is very much needed but feels she can't afford to reject projects and sit at home. "I grew up watching 'I love Lucy' and 'Here's Lucy' and I was in awe of that character and wanted to play that... And I am at such age where I can play that but they are not being made. Like I would love to play a negative role but nobody offers me that because of the image. It is very difficult to break through that," Supriya told PTI.
Wife of actor Sachin Pilgaonkar, the actress will soon star in a Star Plus TV show 'Meri Bhabhi', again playing a mother-in-law. Supriya says it has become a challenge in itself to do something different in the same roles and she tries to accept projects which give her some room for experimenting.
"I feel that a change is very much needed. It will be really welcomed. As an actor I feel whatever comes to me if I don't do it with a conviction, I will not be able to sustain. If I don't do anything, I am not going to act in front of a mirror. So whatever change I am going to bring out can happen slowly," she added.
Besides TV serials, Supriya is also a well known face in Marathi cinema and Bollywood. Though she hasn't been on the big-screen for quite some time she says she will soon make a comeback. "They (films) are taking a back seat as of now unfortunately. But I would be able to make some time for it very soon as I haven't done a film in past couple of years because of 'Sasural Genda Phool', later because of personal
reasons. Very soon I am going to take time out for movies because I miss doing different roles."