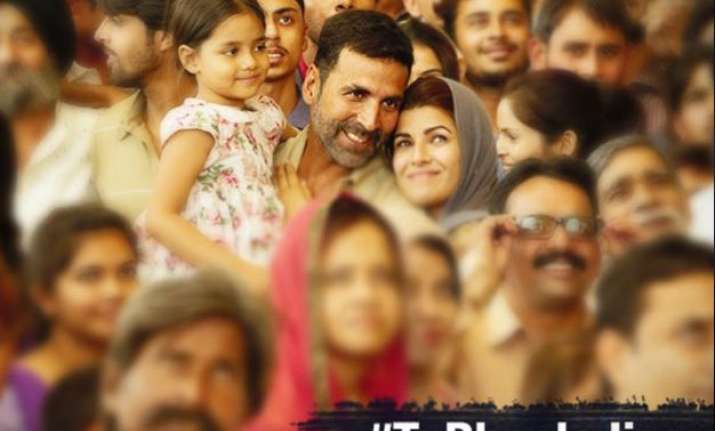 New Delhi: Bollywood star Akshay Kumar today presented the fans with a beautiful and patriotic song from his upcoming movie 'Airlift' - Tu Bhoola Jise.
Blended with the feeling of nationalism, the song reminds us that even if we forget our motherland, the nation would always stand for us no matter where we are.
He shared the link of video on the micro blogging site Twitter.
"This song gives me goosebumps each time I hear it. I'm proud to be an Indian. Here's #TuBhoolaJise from @AirliftFilm https://youtu.be/wrXKov_UmCA," Akshay posted.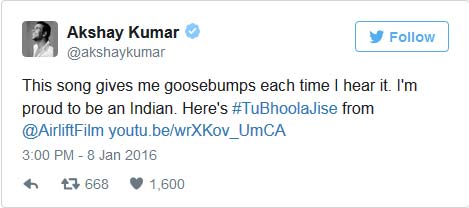 The song video gives us shivers from the first scene itself when Akshay says, "Humari koi aukaat nahi hai, agar humari pehchaan hai toh sirf ek ki hum Kuwaiti nahi Hindustani hai. Saath hain toh kuch hain, varna… nothing."
The magical voice of KK and heart-touching lyrics of Kumaar has the very potential to give you goosebumps.  You will never feel bored of this composition from Amaal Mallik, no matter how many times you will hear it.
Tu Bhool Jise, undoubtedly, is a heart warming patriotic song coming from Bollywood after a really long time. It makes you realize that a country cares for its natives just like a mother does for her children.
You will never stop thanking your motherland after listening this. Watch video here: