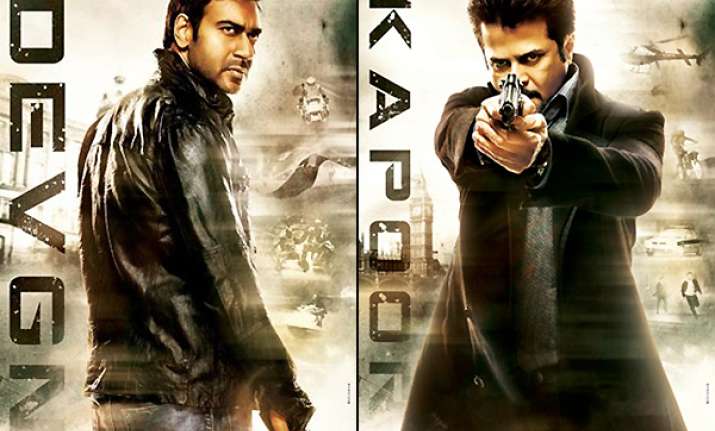 Mumbai, Jan 5: Bollywood director Priyadarshan wanted Ajay Devgn and Anil Kapoor to do the fighting climax scene shirtless in Tezz, just like a lean bodied Sonu Sood and  shirtless Salman did in the Dabangg climx, but the plan fizzled out, reports Mumbai Mirror.

Priyadarshan wanted the climax fighting scene brutal and barechested.

The sequence that was supposed to get shot in an around London's St Pancras station was shot last week in Mumbai on a set designed by Sabu Cyril to match the Pancras locale.

While the fight between Devgn and Kapoor remained as planned, Anil declined to bare his torso.

The report quoting a source said, while  Ajay  was in a fine physical shape from the Singham days, and was all for it, Anil said,  in spite of his best intentions, he just couldn't.

Anil made a sincere attempt to get into shape, but the idea was finally dropped, says the report.

Anil  has always been shy about taking off his shirt. He took off his shirt only for the lovemaking scene with Dimple in Jaanbaaaz.

The climax of Tezz was shot in the heart of Mumbai with the two actors buttoned up and pretending to fight it out outside Pancras station.

Says Priyadarshan : "No, we dont have Anil and Ajay bare-chested. This is not the Dabangg kind of climax. But yes, it's pretty gory.

"I'd say Priyadarshan didnt shoot this bloodied and savage Anil-Ajay fight.

"Ridley Scott did. Ridley is my favourite. I've tried to bring in his raw realism in the fight.

"It's a fight between equals. It's a fight between right and right.Till the last, the audience wouldn't know whether Anil or Ajay would win the fight.

"Anil has a vast reputation as a hero. Long back in films like Tezaab he established himself as a hero of the masses.  So audiences won't be looking at his muscle power.

"They will look at him as a symbol of moral rightness. Hence the fight with Ajay has turned out superconvincing. I am very proud of it".