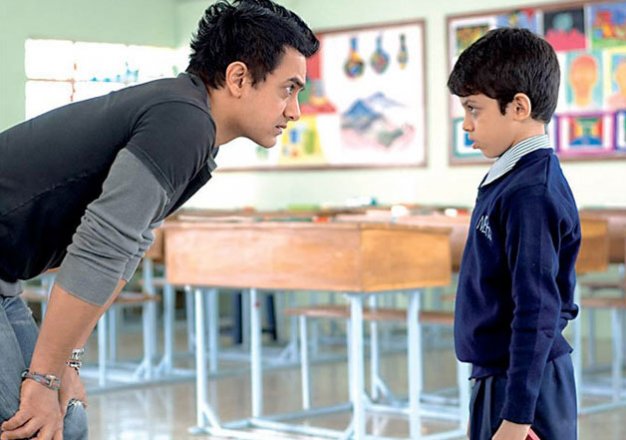 New Delhi: Aamir Khan's 2007 release Taare Zameen Par hit right chords as it successfully created awareness about a condition called "dyslexia"
Darsheel Safary, as eight-year-old Ishaan, aptly portrayed the agony of a child suffering from this reading disorder.
Directed by Aamir Khan, the movie changed the parent-child perspective for good and at the same time also taught some great lessons to the society.  
The movie was a box office success and it still etched in the memories of people. It has the power and emotional appeal to melt the viewer, no matter from age group he/she belongs.
Today, as Taare Zameen Par complete 8 years of its release, let's have a look at some lesser known facts about the masterpiece from Aamir Khan.
1. Name of the movie
 Salman Khan is credited with suggesting the movie's title to Aamir Khan when they both met at a party.
2. Reference to Abhishek Bachchan
Aamir Khan has to take special permission from Amitabh Bachchan to use Abhishek Bachchan's (who also suffered dyslexia) experiences in the film.
The reference is made in terms of Abhishek being one of the most successful stars and how he came to star in the blockbuster Dhoom (2004), overcoming the dyslexia that he had during childhood.
3. Aamir Khan's Direction
Amole Gupte was set to direct the film until he was replaced one week later with Aamir Khan who was not confident about Gupte's directing abilities.
4. Awards and Recognition
Taare Zameen Par has received numerous awards, including the Filmfare Best Film Award for 2008 and the 2008 National Film Award for Best Film on Family Welfare.
Moreover,it was India's official entry for the 2009 Academy Awards Best Foreign Film, but did not progress to the short-list.
"Aamir and Salman have left me behind in Bollywood race," confesses Shah Rukh Khan
5. How Darsheel Safary bagged the role
Darsheel Safary is a part of Shiamak Davar's dance troupe. During one of the classes, he saw a poster that read, "Hunting for a naughty kid. If you're selected, you will get a chance to act with Aamir Khan." He thought that it would be great if he was able to be part of the film. During the same class, Amole Gupte spotted him and asked him to go for an audition. Eventually, he got selected.
6. The real painter
Amole Gupte, the creative director, created most of the paintings credited to Ishaan.
7. Aamir funded Darsheel's educational expenses
Darsheel Safary had to face a lot of opposition from his school when he was short listed for the film. However, Aamir Khan personally assured the school authorities that Darsheel's studies wouldn't get hampered. He arranged for personal tuition for Darsheel all through the academic year so that he wouldn't miss his exams. He also funded his studies as well as his educational expenses.
 8. Aamir played Darsheel's father
There is a scene where Vipin Sharma hits Darsheel, Vipin was hesitant and couldn't hit him properly as Darsheel would start laughing so finally Aamir came with a solution, he wore Vipin's shirt which was sweaty and hit Darsheel facing his back to the camera.