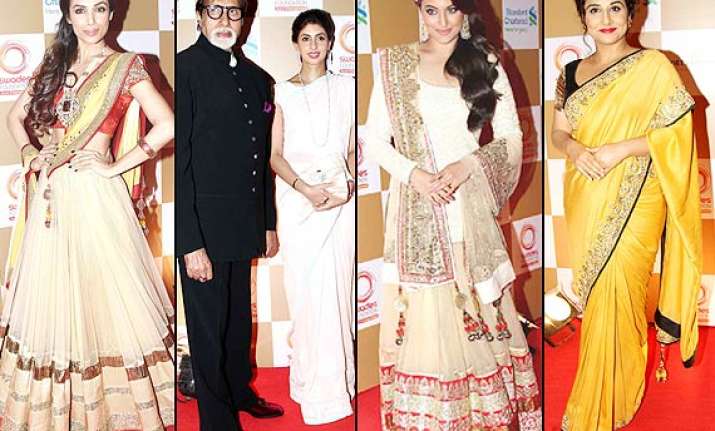 Swades Foundation, an NGO founded by Ronnie and Zarina Screwvala hosted a fund raising event in Mumbai. It was Karan Johar who hosted the fund raiser while a splash of Bollywood celebs attended the do.
The Swades Foundation works in the direction of empowering people living in rural India. Recently, it was in news too when Amitabh and Jaya Bachchan visited villages where Swades worked and interacted with the villagers.
The Bachchans here, were the guests of honour. The event witnessed the sizzling appearances of many Bollywood glitteratis including Maliaka Arora Khan, Shilpa Shetty, Dia Mirza, Sussane Roshan, Sonakshi Sinha, Vidya Balan amongst others.
The highlight of the event remained that every other celeb was dressed up head to toe in complete traditional. While the ladies at the red carpet donned exquisite creations like lehengas, suits and sarees, men spilled their charisma by carrying vibrant kurtas, shervanis and other Indian formals.
Here follow a few pictures from the Swades Foundation event, take a look to know who's who of Bollywood graced the do!
The sizzling Bollywood beauty, Maliaka Arora Khan looked vivacious in that Vikram Phadnis lehenga.
The elaborate flares of her lehenga are surely to kill for. She spread magic with this desi avatar of her.
Sonakshi Sinha too chose to wear a Vikram Phadnis lehenga. Though we have seen Sonakshi donning the same look many a time, this time she looked fabulous.
Thanks to that beautiful pasa over her head, it has added interest to the otherwise boring look.
The bold and black ladies, Neha Dhupia attended the Swades charity event wearing a black creation from Vikram Phadnis and she looked truly beautiful in black.
Actor Kunal Kapoor and director Ayan Mukherjee too arrived at the event. While Kunal chose to go complete traditional wearing a sherwani, Ayan decided to go semi formal in that black ensemble.
As always, Dia Mirza stole teh charm at the red carpet of Swades event. she looked marvelous in that Vikram Phadnis lehenga.
Her over all look was a sure die for!
The gorgeous babe, Shilpa Shetty wore a Rajat Tangri teal gown and while she looked nice, we just felt that she could have avoided those bustier styled cups.

Shilpa has got such a great frame that she can carry almost evrything with much grace and therefore despite a bad pick of ensemble, she managed to look nice.
Write a comment