Follow us on New Delhi: The B-town was taken aback when news of Hrithik Roshan and Sussanne's divorce broke out.
Considered as the epitome of love, Hrithik-Sussanne got separated after 14 years of marriage.
While there were numerous speculations about the reasons behind their separation, one of the major reasons was the Sussanne's alleged affair with Hrithik's closed friend Arjun Rampal.
However, the actual reason never saw the day's light.
Yet, the rumours about Arjun and Sussanne dating each other are still rife and so are the rumours about Arjun divorcing his wife Mehr Jessia.
Infact, recently Arjun Rampal also reportedly, flew down to Mumbai especially for Sussanne's birthday.
But now Arjun Rampal seems to be having a gala time with someone else in Shillong other than Sussanne.
Wait a sec! Before you start riding the horses of your thoughts in your mind and start thinking of Arjun Rampal as a casanova, there is a twist in the story.
Arjun Rampal has rubbished the rumours about him dating Sussanne, and his recent pic on social networking site Instagram also reveals another story.
Arjun shared a pic of his wife Mehr and daughters Myra and Mahika who visited Shillong for Diwali celebrations on Instagram with a caption, "The girls join me in Shillong for Diwali. Lovely to have them around. #rockon2 #shillong #nature #family"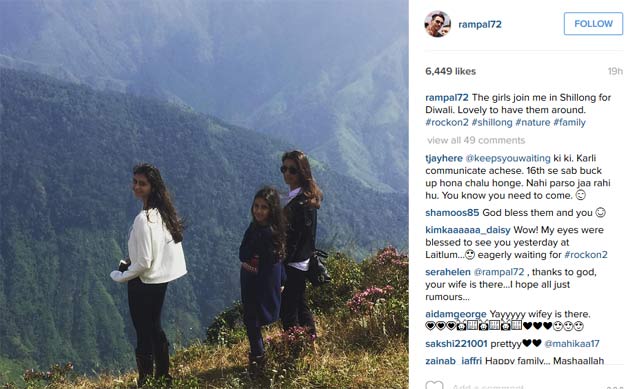 Arjun Rampal is currently shooting for his upcoming film 'Rock On 2′ in Shillong and he made sure that his family was with him during the festive season.
Amidst the speculations of Arjun Rampal and Mehr Jessia getting separated, this pic of the happy family indicates that all is well in the Rampal paradise.