Follow us on Sonali Cable promises a lot but, couldn't quite stand to it. Debutant director Charudutt Acharya who last wrote the screenplay and dialogues of Ayushmann Khuranna starrer 'Nautanki Saala' doesn't completely loses its way but in the end it doesn't quite satisfy us.
Ratings- **1/2
Stars- Rhea Chakraborty, Ali Fazal, Anupam Kher
Director- Charudutt Acharya
Music Director- Daniel B. George, Mikey McCleary, Amjad Nadeem and Raghav Sachar
There is a noble thought of narrating a story in which a big business enterprise flushes off the helpless middle class businessmen. Debates over FDI coming to India has been going on for last couple of years and fear of small business class losing their daily earning source has been one of the vital reasons raised in those arguments.
However, Sonali Cable doesn't goes overseas rather portrays the big guns of domestic market taking away the livelihood of the simple people but the situation is nevertheless the same.
Here our protagonist is Sonali (Rhea Chakraborty) who runs a broadband connection business in Mumbai along with her little team. The business expands with the help of her childhood friend Raghu (Ali Fazal) who has returned to India after completing his studies from abroad. Her business now has a name 'Sonali Cable' but other major enterprise 'Shining Inc' led by Vaghela (Anupam Kher) is about to keep its foot in this thriving business. With the power of money, he wants to bring monopoly in the market and therefore Sonali Cable needs to shut down.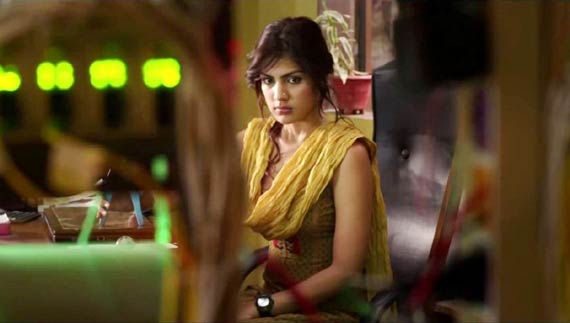 Sonali on the other hand is in no mood to wrap her business because it's more than that. She doesn't just connect wires but also hearts and therefore she would go to any extent. The big elephant Vaghela will now play a dirty game but will this small ant let him succeed?
Sonali Cable underlines few good things that initially interest you with its innovation. Charudutt's idea is noble and as and when it executes and proceeds further, it keeps you interested in with clever dialogues and viable references.
Like there is a scene in which Sonali meets the Shining Enterprise representative and through the Ganapati (both big and small statues carried in) Bappa festive grandeu she makes him realize the importance of the small and major firms. Just like both small and major 'statues' are equally worshipped and are carried in Ganapati festival; the small businesses couldn't be sidelined.
Such are few instances that are thought-provoking and stay in your wits. Charudutt is good at setting such examples, which needs to be looked upon. He establishes the helplessness of the small groups trampled by the greedy and selfish tycoons and we lent our share of sympathy to them. We could also relate few scenes with reality like a one where Shining Int. is shown as being tagged on every product. With these many things the first half keeps us engage but the later half gets messy. Things and the situation are taken too casually.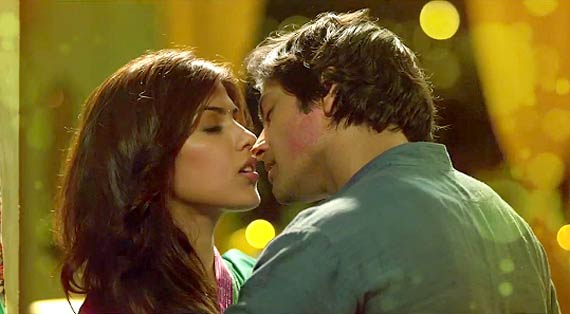 The solution to such issues is so carelessly written that we feel sorry for the efforts put to build up a promising start. The nexus between politicians and businessmen in our country is also touched but more often it's dramatized. It may be director's light-hearted way of dealing with the situation but that doesn't give a near to perfect outcome.
We couldn't paint a multinational owner feeding himself with 'fafada' everytime or the representatives being so dump as shown in the flick.
The final lecture too is non-digestible which comes as a moral session for this major issue.
Performance department however, doesn't disappoint us. Rhea Chakraborty is good as an ambitious Sonali. She shows the worry and the concern which any middle class business holder would have when he/she loses the livelihood.
Ali Fazal gives a brilliant performance. His chemistry with Rhea gives the movie a required momentum. As a man struggling between his politician mom and his love, Ali's character tries to bring the frustration with ease.
Anupam Kher as an arrogant entrepreneur is great however, his characterization is unbelievable.
Music by Daniel B. George, Mikey McCleary, Amjad Nadeem and Raghav Sachar is good. Songs like Ek Mulakat and Gannu Rocks are good.
I'll go with two and a half stars for Sonali Cable.