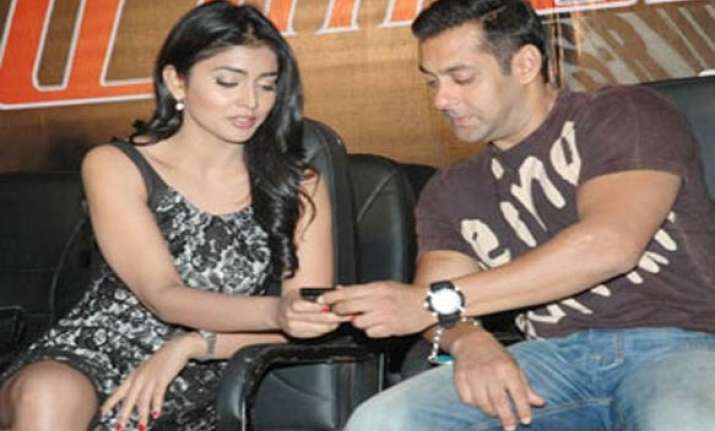 Bollywood is agog with reports of the friendship between Salman Khan and the South Indian actress Shreya Saran.Shreya Saran surprised everyone by walking in for Arpita Khan's birthday party a few days ago and then comfortably mingling with the birthday girl's brother Salman. "Saran looked very comfortable with Salman. Naturally, Salman had invited her. Nobody can gatecrash into Salman's party," said a source. 

While a certain section of people believe it to be more than what meets the eye, the others say the two actors are just good friends. Shreya, who was a huge success down south, ventured into Bollywood with the film Tujhe Meri Kasam in 2003.

Her 2007 film Awaarapan made people sit up and take notice. However, she soon faded into oblivion."Salman is known for building the careers of heroines in B town. He has resurrected the careers of many. It won't be tough for Salman to provide a launching pad for Saran. As it is, Saran is talented and attractive," added the source.

According to a source, "Shreya and Salman kindled their friendship during the Celebrity Cricket League that concluded in June. The two have kept in touch ever since."

At the audio launch of Markendeyan in Chennai in June, Salman and Shreya's chemistry fuelled the gossip mills further. Shreya was in fact so busy talking to Salman at the event, that she missed out her name being called put on stage.

Asked about her friendship with Salman, Shriya however gave a Bollywood patented reply, "Salman is a very kind human being. But I am single and happy. Ditto for Salman, I guess. Please don't drag me into a controversy."

Saran also denied the rumours about her dating Dum Maaro Dum man Rana Dagubatti. "I was never dating Rana. We were just good friends," she quipped

A friend of Saran's however defended her, saying, "Shreya was not even invited to Arpita's birthday bash. She had gone there very casually with a group of friends, who were obviously invited."

Interestingly, Saran is also believed not to be on very good terms with the four girls who are close friends with Salman- Sonakshi Sinha, Katrina Kaif, Asin Thottumkal and Zareen Khan.

As for the equation she shares with Kangna Ranaut and Hazel (model-turned -actress who became 'very friendly' with Salman on the sets of Bodyguard), everybody is clueless.