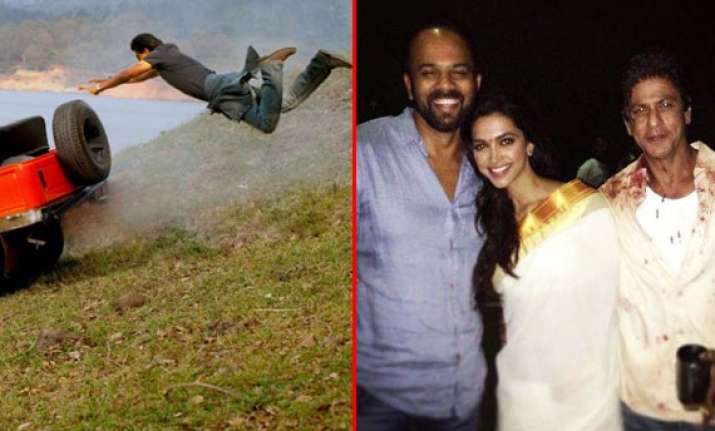 New Delhi, May 27: With actor Shahrukh Khan's high octane action stunt, Director Rohit Shetty has finally wrapped up the much awaited 'Chennai Express'.
SRK has performed some never seen before action sequence in the flick and a glimpse of his art is seen in the latest still where the actor is flying to chase his car.
---
Earlier today, SRK who was absent from his Twitter account reposted
Deepika Padukone
's tweet over conclusion of his shooting.
---
Deepika wrote, "Finished shooting for Chennai Express. Expressed my love to the director and SRK... Rohit Shetty style on the last day!"
Deepika had a sporty last day on the sets of 'Chennai Express' where she showered her dimple smile all around. She also punched SRK and broke a beer bottle on the head of Shetty.
---
The trio of Rohit Shetty, Shahrukh Khan and Deepika Padukone posed after shooting the final bloddy one on one battle.
---
Chennai Express will bring 'Om Shanti Om' pair of SRK and Deepika Padukone back after six years.
The flick will release around August this year.