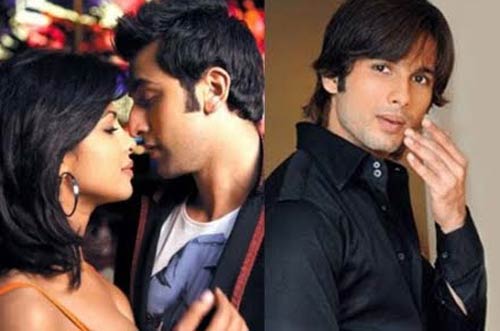 While Shahid Kapoor and Priyanka Chopra have definitely called off their relationship, no one knows as to what triggered the decision.Apparently, the couple had a big fight over Ranbir Kapoor during the last days of their relationship, says a Mumbai Mirror report.
Priyanka had gotten quite friendly, it seems, with Ranbir Kapoor while shooting for Siddharth Anand's Anjaana Anjaani; she also went ahead and signed another film opposite Ranbir during this time, Anurag Basu's Silence. All this did not go down well with Shahid.Says a source, "Shahid was getting jealous and increasingly uncomfortable about Priyanka's growing proximity to Ranbir. He then confronted Priyanka about Ranbir."
Apparently, when confronted, Priyanka retort was a very strong one. She told Shahid, 'You have many friends who are girls. Do I mind that? And more importantly, you haven't committed to me yet. Then why are you objecting to my friendship with Ranbir?'. It was post this fight that thw two decided to end their relationship and go their separate ways.
It may be recalled that a few days before Anjaana Anjaani hit the theatres, Shahid was rumoured to be very miffed about the Priyanka-Ranbir kiss in the film.
The source adds, "The problem in Shahid and Priyanka's relationship was not just the fact that they happen to be very strong individuals with different tastes, but also that both of them had never committed to each other. There was possessiveness from both sides, but no commitment in the offing.
That hastened the end to their relationship soon after the fight over Ranbir. Shahid and Priyanka had many ups and downs in their relationship, but this time it's final; even their common friends are not mediating now. It's all over."Now they are anjaana anjaani.