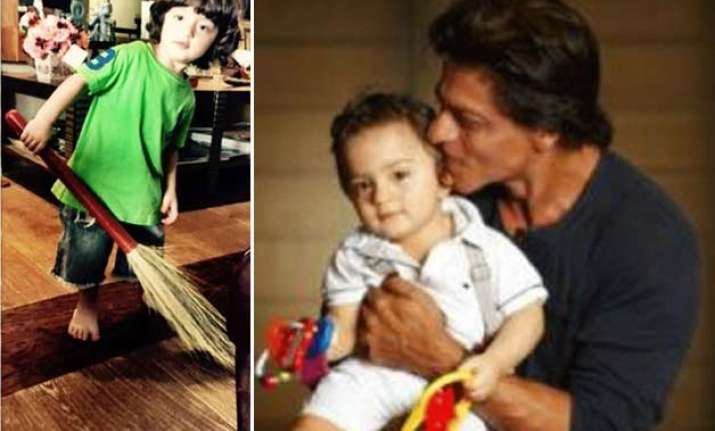 New Delhi: Prime Minister Narendra Modi's ambitious campaign 'Swachh Bharat Abhiyaan' has a new face. This is none other than Bollywood superstar Shah Rukh Khan's youngest son AbRam who has wielded a broom to clean up the country.
And it does not end here. He might be the next champion at the game of Quidditch.
SRK posted a picture on his Twitter account where his youngest son AbRam is seen holding a broom. The actor captioned the image, "Starting him young to believe in Clean India….Green India…& maybe a round or two of Quidditch!!"
An active social media user with more than 12 million followers on Twitter, Shah Rukh has been sharing moments of his son who has now turned.
He tweeted yesterday, "Make up is not just to look pretty on screen. It helps cover the bruises. Thot as I nurse my knee…my lil one says "Papa toot gaya…""
AbRam might soon be seen on big screen. Recently published reports suggest that Shah Rukh is planning a Bollywood remake of Richard Linklater's coming of age film 'Boyhood' where his elder son Aryan may debut and AbRam might play younger version of his brother.
However, young AbRam has already made his Bollywood debut with a cameo in 'Happy New Year'.