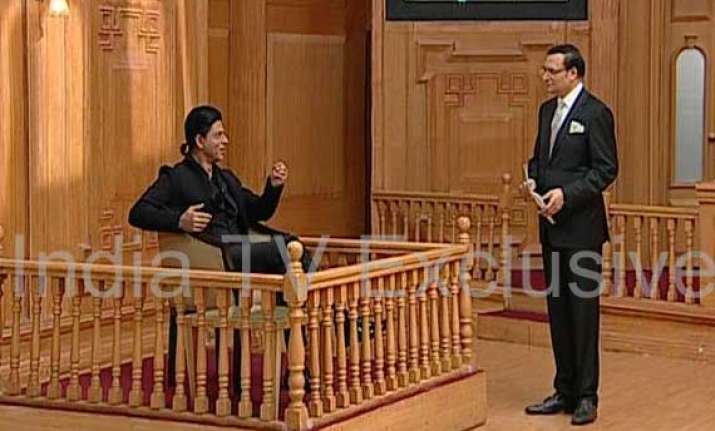 New Delhi Aug 7: It seems Shah Rukh Khan misses Salman Khan as when he was quizzed in India TV's weekly show Aap Ki Adalat by Rajat Sharma about 'Chennai Express', which has brought back the action of 1995's  Karan Arjun starring Shah Rukh Khan and Salman Khan, the actor left no opportunity to take a dig at Dabangg Khan.
Shah Rukh Khan smiled and said, "Arjun ka to zaroor vapas aagaya hai action, par Karan ka pata nahi (Arjun's part of action is in the flick but don't have an idea about Karan's)."
Shah Rukh had played Arjun's charater in Rakesh Roshan's Karan- Arjun while Salman Khan played the role of Karan in the flick.
Recently Shah Rukh and Salman ended their 5-year old rivalry at Baba Siddiqui's Iftar bash where the duo hugged each other.
Rajat Sharma's Aap Ki Adalat will be aired on Saturday(Aug 10)  at 10 pm and on Sunday (Aug 11) at 10 am and 10 pm with Shah Rukh Khan and Rohit Shetty as guests.
Related Stories:
When Hema Malini combed Shah Rukh Khan's hair!
It hurts when I laugh: SRK