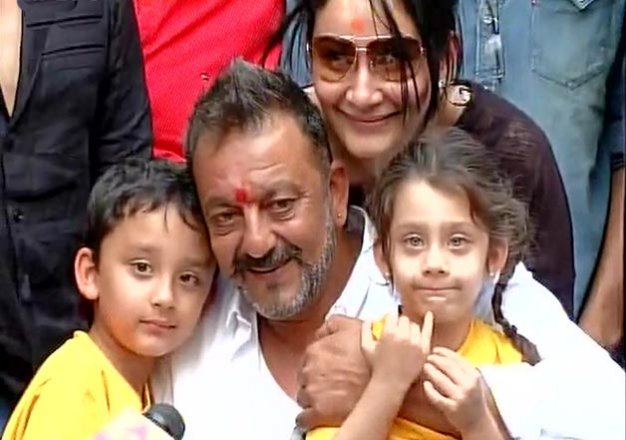 New Delhi: Actor Sanjay Dutt today held a press conference at his residence after his release from Yerwada jail. The actor has completed his five year jail term in connection with possession of illegal arms.
Talking to the media, Sanjay Dutt said that he is feeling amazing after coming out of the jail and is missing his father a lot.
"My biggest relief was when court said 'you are not a terrorist'. Miss my father who wanted to hear this all his life,"
Sanjay further expressed that he was awaiting this freedom from last 23 years, however, he is not been able to realize it right now.
"It's still not sinking in; it feels like I am on furlough. I know it will take some time for me to convince myself that I am free," he said.
When asked on why he touched the soil and saluted the national flag, Sanjay said, "I am proud to be an Indian that is why I kissed the earth and saluted the tricolour when I came out,"
Sanjay Dutt in his 28 month term earned Rs 440 in prison by making paper bags. When asked what he did with the money, the 'Munnabhai' of Bollywood said that he gave it to his wife Manyata.
"I gave the money earned Rs. 440 in the jail to my wife, as a good husband," said Sanjay.
He further added that Manyata has been his pillar of strength in the trying times.
Sanjay said, "She is not my better half, but my best half. Manyata is my strength".