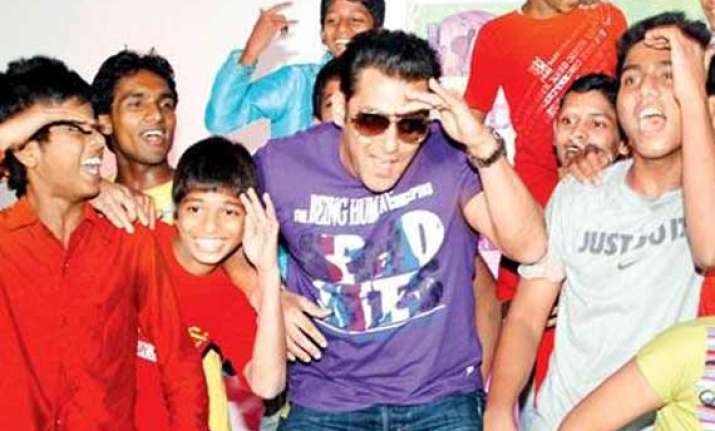 New Delhi: Salman Khan, whose action drama "Kick" is storming at box office, today on celebratory occasion of Eid has something precious for his little fans.
The actor first of all took on the social networking site and wished his fans all over, "Eid mubarakh to u allll . Thank u . May god b vit u n protect u .", he tweeted.
Later the benevolent 'bhai' of Bollywood presented 'Eidi' for children suffering from heart disease. So, is his next tweet Salman made an announcement, which only rare can carry off well.
Dabangg Khan asked those kids suffering from disease to inform him via Twitter and Facebook  and his Being Human will take care of them.
"If  any kids on F B ya twitter  who has a heart condition n can't afford to get it treated, B H vil get 100 genuine patients treated", tweeted Salman Khan.
But he warned them of bluffing as he added, "lekin  bevakoof nahi banane ka. Samjhe kya? So twitter, FB par bata dena, the digital, BH team vil take care of it . Thank u ."
Salman Khan, who will turn 40 this year, aims at extending his help to as number of needy people as he can. The actor in an interview to a leading daily said that he wants to set such a benchmark that no one would able to match ever. However, he wishes some one to go beyond the social work he is doing right now.
The actor also gave a new ID and asked the kids suffering from the disease to send his/her details.
There would be innumerable blessings coming for Salman Khan for this noble move, which would bring life and their lost smile. We wish him and all Eid mubarak!