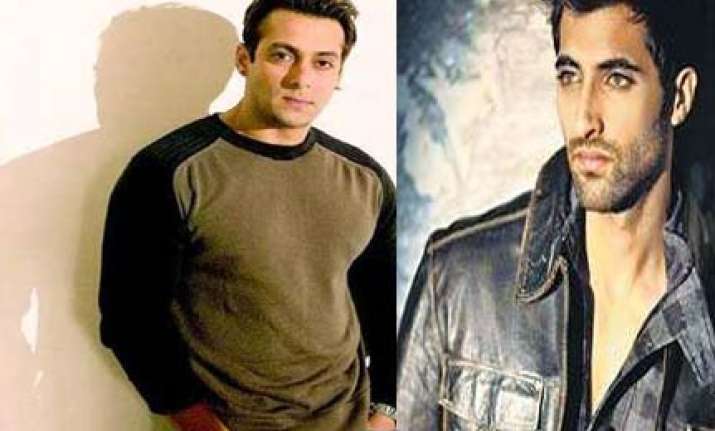 Bollwood star Salman Khan may still have serious issues with Vivek Oberoi with whom he had got into an ugly tiff after Vivek accused him of harrassment in a press conference years back when he was seeing Aishwarya Rai (now a Bachchan).
But the large-hearted man that he is, Salman has no problems with Vivek's first cousin Akshay Oberoi, says a media report.
Akshay is debuting in a Sooraj Barjatya film much like Salman Khan in Maine Pyar Kiya and we hear that Salman is playing a cameo in the movie for Vivek's cousin.
Salman has also been promoting Akshay in his social networking sites as well as to industry heavyweights who are Sallu's friends.
"We have no problems just because the history my cousin (Vivek) shares with him. Salman has been most kind and appreciative of my work and me and I'm grateful to him. He is not a person who keeps grudges against anyone. He is a very positive person and cares for one and all. He did not let personal history come between him and me and I'm very happy that he is talking good about me. I will always need his advice to survive and grow in this industry," says Akshay.
 A top trade source reveals, "We have confirmed news that Salman is doing a cameo. He is very excited to do it. Salman and Sooraj are very thick and he has got very involved with this movie. We feel that he is nostalgic about youngsters making their debut like him and Bhagyashree. The cameo is a small one but has tremendous significance given that he still can't stand Vivek. Salman doing it for his cousin speaks volumes about the person that he is."
Meanwhile, Akshay has become friends with young B-town star Imran Khan.
They exchange messages regularly and are always in touch. Apparently, the two boys share a very close bond since both studied together and have also grown up together in the same area. And even though Imran is a few years senior to Akshay, the duo are thick as thieves.
And now with Akshay formally entering Bollywood there are loads of tips and tricks of the trade that he is learning from buddy Imran.