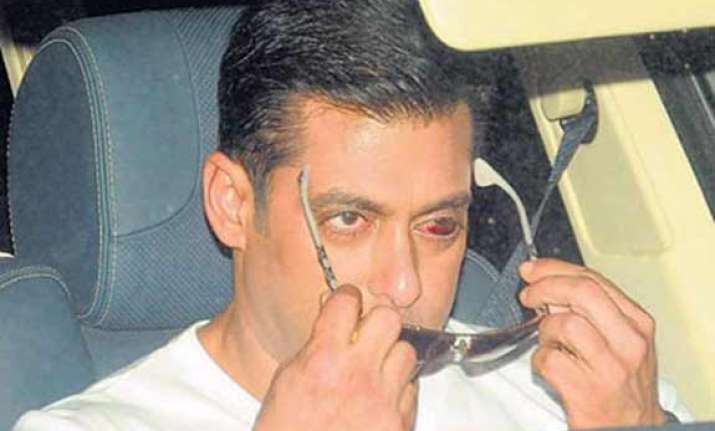 Bollywood star Salman Khan has got the bags under his eyes 'fixed'.  A Mumbai tabloid has published photographs of Salman's eyes.  
Over the weekend, Salman Khan sported dark glasses on Bigg Boss throughout the one-hour duration of the show (on Friday and Saturday).
There were murmurs about the actor getting surgery to fix the bags under his eyes.   
The tabloid photographer decided to play the wait-and-watch game and see if he'd sport dark sunglasses when he walked the ramp the following day for his Being Human show. It paid off. Salman came wearing dark sunglasses.  
The tabloid report says, Salman had flown to Dubai last week, where he had the procedure done. A doctor from Singapore flew in especially for the Khan. After the show, the photographer Satyajit Desai clicked pictures of the actor without his shades.
Why do we have bags under our eyes?  
As we grow older, a common, noticeable effect manifests itself through what we simply calls bags under our eyes.  This happens because the protective coating of fat bordering our eyes begins to sag (blame gravity and our skin becoming less supple over the years).
This makes us look older and also gives one a ceaselessly worn-out look.Wanna look younger? Through eye-bag elimination treatment, one can.  
Sagging upper eyelids can be corrected through cosmetic eyelid surgery, also known as blepharoplasty.  This involves removing excess skin and pockets of fat from the upper and lower eyelids. This treatment takes around one to three hours. It is often performed under local anesthetic as a day procedure.
Most people return to work after a week or so, depending on the type of work they do. Side-effects includebruising and swelling around the eyes and can last up to three weeks.
Gerard did it, too
In 2009, actor Gerard Butler made news for reportedly going under the knife for an under-eye surgery. He was spotted leaving an eye clinic wearing dark shades, sparking off speculation. Even though the actor's publicist refused to comment, sources confirmed that Gerard had gone for a quick touch-up to remove the baggy skin under his eyes.  
Says photographer Satyajit Desai:  "Last night, when Salman walked the ramp with his glares on, there was a buzz that he had injured his eyes while shooting. Speculation was rife as he'd been seen with covered eyes for three days. Some felt that one of his dogs scratched his eye while playing. Another group was convinced that smoke from firecrackers hurt his eyes. 
"I wanted to find out the truth so I started following Salman the moment the show got over. I found him sitting near his vanity van lying in a chair with ice on his eyes. His security asked me to stay away because Salman could get angry if I tried to take pictures but I just had to know why he was wearing glares.
"While some of the actresses like Rani, Sangeeta Bijlani, Priyanka, Bipasha, Katrina came to meet him, I took some pictures but it was when he was getting into his car that he took off his glares and I got these."