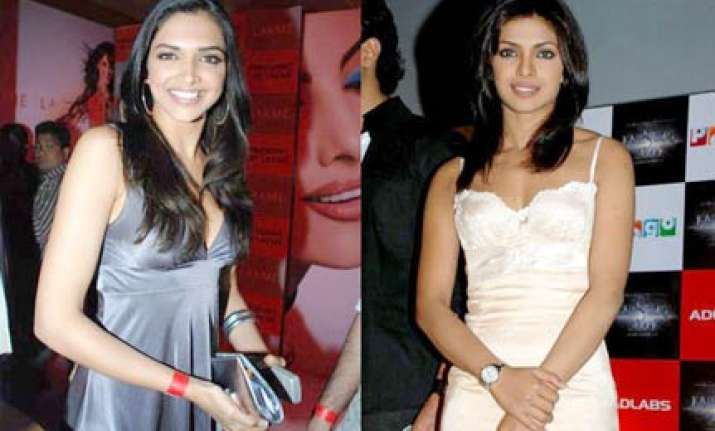 Bollywood's pro-active producer Sajid Nadiadwala and his director Siddharth Anand have locked horns over who to cast in their next, an untitled film based on Chetan Bhagat's novel "2 States: The Story of My Marriage.
 "
While Anand wants Priyanka opposite lead actor Saif Ali Khan, Nadiadwala prefers Deepika, says a MidDay report.
The report quoting a source says: "Before Anjaana Anjaana's release Anand and Nadiadwala decided to repeat PC in their next flick a Saif starrer.
They discussed it and a verbal commitment was made. After the film released, things changed. The director still wanted Pranks, but the producer lost faith in her and wanted her replaced."
According to the source, "Then, the news about Deepika doing Siddharth's next came as a shock to Priyanka.
 
PC called her AA director from Berlin, where she is shooting for Don 2 and asked him what was happening. When PC confronted Sid, he denied having approached anyone."
A source close to Siddharth says, "He's in a fix because he has verbally committed to PC and can't back out.
At the same time, he needs Sajid to be on the same page because he's producing the film. He can't take Saif and PC to an outside banner."
The director confirms, "My next is the 2 States remake with Saif and Priyanka," adding, "It's only PC that I want, not anyone else!"
Sajid says, "Priyanka is part of the family of my production house. If Siddharth wants PC, he can get her or whoever he wants."
A source close to Nadiadwala says, "He is in two minds about producing the film at all as he's not sure whether he would be able to devote time and attention to it.
Sajid already has four biggies lined up next year, Kick with Salman Khan, Sajid Khan's House Full 2, Sabbir Khan's Heer Ranjha and Imtiaz Ali's next (probably with Hrithik Roshan).
He wants to complete them before he starts on Siddharth's next."