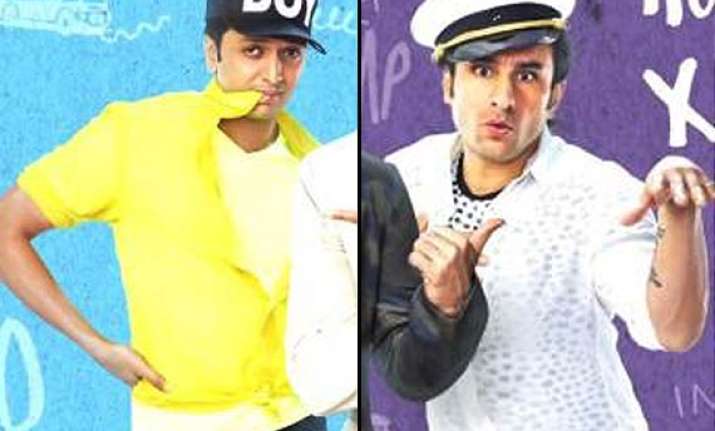 While Bollywood was anxiously waiting for its next famous 'gay' jodi after John-Abhishek in 'Dostana,' here is the news that would definitely give the fans a thrusting delight.
Well, the buzz is that Sajid Khan's upcoming venture, 'Humshakals' will offer audience a much endearing chemistry of 'Saif and Ritiesh.'
Humshakals, which is already garnering enough media limelight due its multi-starrer comedy appeal, stars Saif and Riteish in triple roles. With the new poster of the film, it seems evident that one of the three characters of both the actors has got that special fervour of ecstasy with gay characters.
It's not that long when we saw John and Abhishek creating magic on screen with their ultra fun chemistry in their respective gay characters. While that was to woo a lady, the scene doesn't seem similar in 'Humshakals.'
While the recently out poster portrays this, director Sajid Khan is not that convinced with the denotation of the two characters. While talking to a leading website, he refused that 'Humshakals' has got any gay characters in it and forced that both the characters are little effeminate but not gay.
He further added that even his previous movie, 'Heyy Baby' too got some gay jokes but didn't have any such character. He also deemed that neither 'Humshakals' nor any of his movie entertains offensive jokes or scenes. He too claimed that his films are always made sans vulgarity.
While Sajid is strictly denying 'dostana' being repeated through his 'Humshakals,' it's for the future to see with the release of the film on June 20th.
We'll just say that 'we say what we see!'