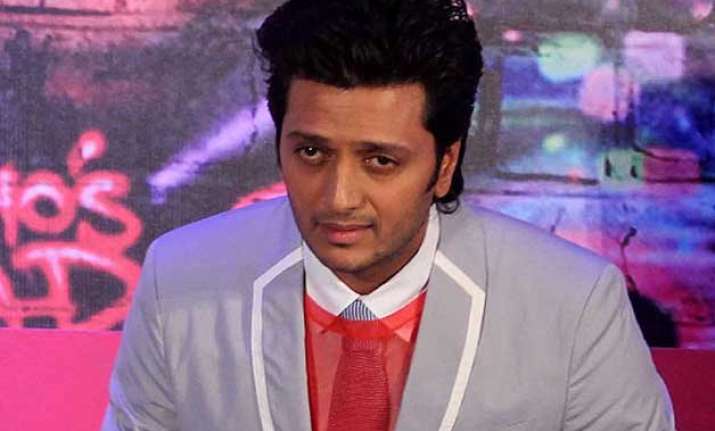 New Delhi: Sunny Leone's 'Mastizaade' has created quite a stir among the audiences, thanks to its unabashed trailers and songs. The fans are going gaga over Sunny's twin act in the film. Co-stars Tushhar Kapoor and Vir Das also seem apt for their respective characters.
But apart from the former porn-star, if there's anything that is being noticed about the film, it is funny man Riteish Deshmukh's presence. The actor-producer can be seen in the trailers and songs which is definitely a highlight. He is counted among the few trustworthy stars in Bollywood whose presence in a movie entices the audiences' interest and they look-forward to it as a promising flick. 
But, the 'Ek Villain' actor is not happy with the makers of 'Mastizaade' as they are promoting the film heavily on his name. He has been given more than required screen-timing in the promos which can confuse the audiences to believe that he has a full-fledged role in the film, while he is only doing a 2-scene cameo.
Riteish has expressed his disappointment openly on the social-networking website Twitter. He has lashed out at the makers saying that they have broken the contract.
"I am part of 2 scenes and a song in MastiZaade -nothing more. I am requesting the makers again- Please honour our agreement. #Disappointed," his first tweet read.
He continued further with the second tweet, "Disappointed with MastiZaade :Its shocking to see them blatantly use me in their promotions-Absolute breach of my contract-agreement &trust."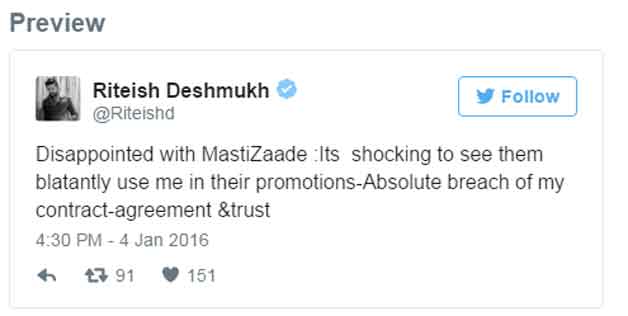 While he seems to be extremely pissed, we hope that the makers of 'Mastizaade' would soon rectify their mistake.