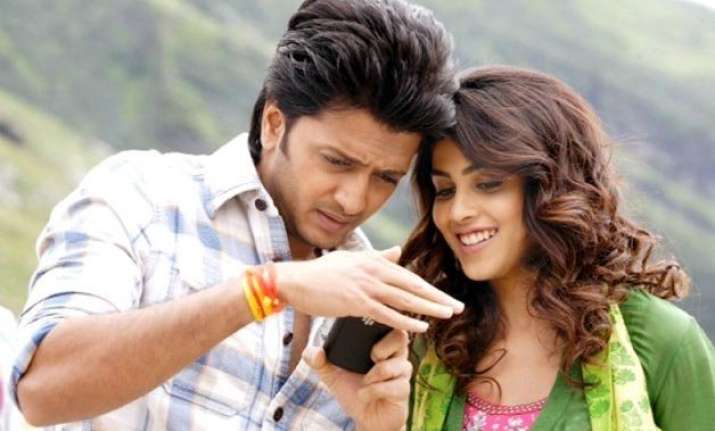 New Delhi: The Bollywood industry has always witnessed several love stories. While some of the love affairs are short lived, there have been couples that encapsulate the actual meaning of love with their chemistry and bond.
One such couple is Riteish Deshmukh and his wife Genelia.
The two much in love couples had stepped in the tinsel town together, but little did they know that they would also be spending their entire life together.
Yes! Both Riteish and Genelia made their debut in Bollywood with the release of 'Tujhe Meri Kasam' in 2003.
But it's not just the release of their first film that makes their debut special. In fact, it was the beginning of their love story, which means not just in the tinsel town, Riteish and Genelia have actually completed their 13 years of togetherness.
Talking about their love story, this adorable couple first met on the sets of 'Tujhe Meri Kasam' in 2002 when Genelia was just 16 year old. While the bubbly girl thought being a chief minister's son, Riteish will be a spoilt brat and full of tantrums, Riteish was surprised of Genelia's cold behaviour.
However, destiny had its play and soon these strangers turned out to be the best of friends.
Not many people know that Riteish is also a professional architect, and architecture is what he used to discuss with Genelia on the sets. And, young Genelia used to share updates about her college and exams with him.
But love was never a sudden thing for them. It was a slow process instead, from where they first got to know each other and to before they could realise it, they were in love!
They saw each other grow both personally and professionally and got to know every bit of their respective persona. '
The duo have worked together in films like "Masti" and "Tere Naal Love Ho Gaya", "Tujhe Meri Kasam" and were totally smitten by each other's charm.
Riteish took to his Twitter to share a poster of his debut film, which released in 2003. He tweeted, "Today: 13 Years of 'Tujhe Meri Kasam' – 13 years of @geneliad and me being part of this glorious family #IndianFilmIndusty".
On the other hand Genelia, expressed her happiness in the tweet, saying "Never thought that my first photo shoot would eventually be my wedding album. #Serendipity #TujheMeriKasam".
And after dating for almost a decade, Riteish and Genelia got married in February 2012 and also have a son Riaan. Rumours have it, the couple is also expecting their second child now.
The strong bond of commitment between them has made them the first couple of Bollywood to never have had a single share of controversy, or link-ups with any other co-star till date.
Currently, Riteish Deshmukh is busy with his forthcoming movie 'Housefull 3', also, starring Akshay Kumar and Abhishek Bachchan in the pivotal roles, and is slated to hit the screens on June 3, 2016.