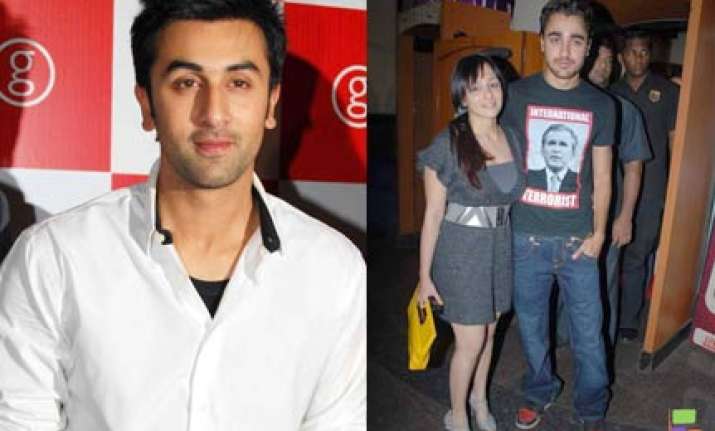 Bollywood star Aamir Khan's recent party for international music composer Gustavo Santaolalla rocked. Most of the bigwigs who Aamir had invited turned up.  Imtiaz Ali, Salman Khan, Saif Ali Khan, even the staunch Shah Rukh Khan loyalist Karan Johar came early (8 pm) and left in the wee hours of the morning, says a media report.
WHen Aamir was taking stock of his guests the next morning, it dawned on him that the one who was missing from the celebrity list was Bollywood'  s current sweetheart Ranbir Kapoor.The party was held at 24 Pali Hill,Imran Khans residence that is just a few blocks away from Ranbirs Krishna Raj bungalow.
The reason why Ranbir reportedly stayed away is because he was not keen to come face-to-face with his ex-buddy Imran and his fiance Avantika Malik; especially after media reported that Avantika and her mother Vandana Malik had torn Raajneeti to smithereens during their visit to the theatre.
Just a few weeks ago, the entire scenario was different. Ranbir and Imran were bonding big time. They even had lunch at a film studio where they were shooting for their respective films.
The recent success has driven a temporary wedge between these two youngsters. But the earlier generation had a different equation altogether. Ranbir's dad Rishi Kapoor, had lent his bungalow for Imran' s parents Nuzhat and Anils wedding. Rishi had also said once how he liked Imran a helluva lot.