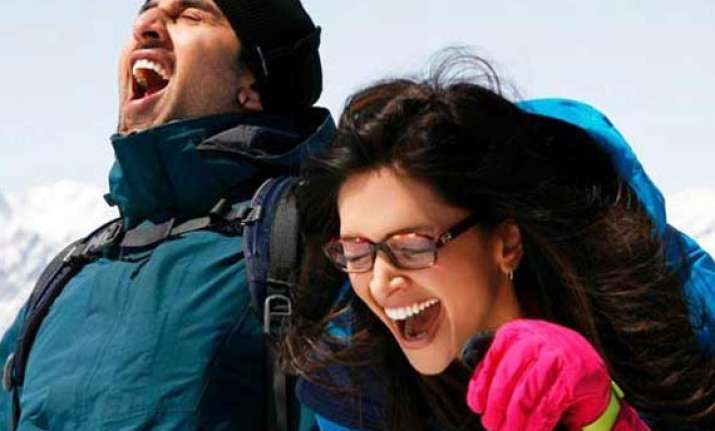 New Delhi, June 4: After most relationships end, time to say goodbye comes sooner or later, unless you intend to walk down the aisle which also doesn't guarantee anything anymore. But Ranbir Kapoor and Deepika Padukone, the ex 'hot' couple of Tinsel Ville have changed this trend for good or bad, we shall soon find out.
Ranbir and Deepika have gone to great lengths in maintaining their 'friendship' even after their much publicized break up where Ranbir Kapoor was infamously declared the heartbreaker and Deepika mulled over it for weeks even for months. Both have had their share of link ups post break up. Ranbir has been linked with Katrina Kaif while Deepika with Siddharth Maliya and Ranveer Singh.
 But things are looking up for this ex couple with Yeh Jawani Hai Deewani breaking all Bollywood records. During the shooting of this movie, things started warming up between the two rather well. Their sizzling chemistry in the movie, and not to forget, their completely unexpected liplock had audiences wanting for more. Their real life bond and fondness for each other creates magic on the screen. Who would have thought the couple would together perform with such ease and poise?
 Ranbir Kapoor in an interview said' "I'll be the godfather to Deepika's kids" while Deepika Padukone was heard saying at Karan Johar's bday bash" I was there for him, and I'll always be there for him." Deepika Padukone recently invited Ranbir Kapoor, Ranveer Singh and Siddharth Mallya along with some other friends to celebrate the success of YJHD and apparently there was no awkwardness in the air.
 They have become a classic example of how to maintain a certain level of friendship and professionalism even after your relationship has hit the rocks.
The two have moved on miles ahead in their respective lives, both professionally and personally. Their chemistry creates an unexplained magic which their audiences' love to watch. Let's hope just for our sake that they continue to rock on the screen even if not off it.