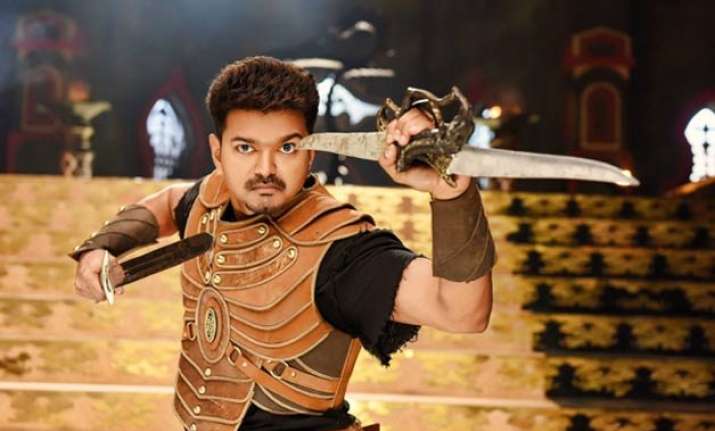 Director: Chimbu Deven; Cast: Vijay, Sridevi, Shruti Hassan, Hansika Motwani and Sudeep; Rating: **
After "Baahubali - The Beginning", here is another caper from south India that's trying to appease the Hindi speaking audience across India.
Like "Baahubali", this period fantasy film "Puli" is spectacularly mounted but unfortunately does not match the former in stature.
The title "Puli", which means tiger in Tamil, used as a subtle metaphor, is almost lost to the Hindi speaking viewer.
The film is a convoluted tale that lacks originality. It is the story of a braveheart, Magadheera (Vijay) who rescues his lady love Pavanamalli (Shruti Hassan), daughter of his village head and his people from the clutches of a wicked queen, Yaman Rani (Sridevi) and her commander Jaltarang (Sudeep).
What makes this film unpalatable is the fact that it is a badly patched up tale. It has elements drawn from every possible fable that include Magadheera being abandoned as a baby, raised by foster parents, falling in love with a girl who is kidnapped and imprisoned by Yaman Rani's men in the attic of a castle tower.
Furthermore, Magadheera's journey to the forbidden land includes meeting a tribe of miniatures, just like the Lilliputians in "Gulliver's Travels", as well as meeting a wizard who helps him a with magical potion. These meetings, along with a talking monster tortoise, a talking bird, a helpful frog and a one-eyed monster, take the fantasy to its nadir.
The performances by the top-line cast, with, the-out-of-sync dubbing, is unintentionally amusing and jarring to the eye.
Vijay as Magadheera, lacks the charisma of a superhero. He is more comical than serious.
Shruti Hassan as Pavanamalli and Hansika Motwani as Rajkumari, Yaman Rani's daughter, have half-baked roles. As eye candies, they are neither glamorous nor appealing. Hansika's facial expressions are a bit gawky on camera.
Sridevi, who makes her appearance after the interval, is a huge letdown, both in her performance and demeanour. Sudeep as Jaltarang is decent and has a fair screen presence, but with limited screen time.
It is the supporting cast, especially the miniatures, Alpha, Beta and Kamashi who help Magadheera in his endeavour, who are sincere and endearing. Equally noteworthy are Magadheera's father, the village head or mukhiya and the wizard.
The dialogues are loud and dramatic, at times incongruous with the action happening on screen. Magadheera states "Veerta ka doosra naam hai sehanshakti", but unfortunately there is no evidence to support this.
The songs are quite lengthy, but the dances are well choreographed.
On the technical front, the film is artistically conceived. Every frame is picture perfect with brilliant atmospheric visuals, elaborate sets, beautiful costumes, well perceived computer generated images and equally well executed video effects.
Overall, the film is only for children and lovers of the fantasy genre who are willing to overlook the flaws.