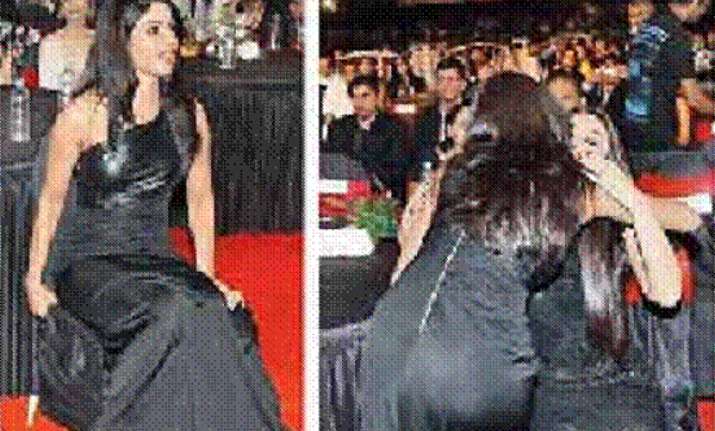 Mumbai, Dec 20: Hug Number One : Bollywood actor Kareena Kapoor went up to Priyanka Chopra at an awards event in Andheri on Sunday night and hugged her.

Everyone in Bollywood knows that the two stars are not on talking terms.

It was PC who made the first move and couldn't resist giving Kareena a warm hug. The Kapoor girl taken unawares was forced to extend a warm hug too

A media report quoted a source saying: " Kareena arrived late and made her way to the reserved table. For a while she was sitting alone. Later director Madhur Bhandarkar was seen with her at the table. Meanwhile PC was seated a few tables away waiting for her performance.

"As soon as she saw Kareena seated, Priyanka walked up to her and bent over her to give her a warm hug. Bebo reciprocated. For a few moments they exchanged niceties and PC went back to her seat."

Adds the onlooker, " Everyone was taken by surprise by PC's move."

Last year, at the annual police mela PC had apparently gone up to Kareena and said, " Let's forget what has happened and begin anew."

Both had also danced together on stage with Shah Rukh Khan. But the buzz that did the rounds at that time was that Kareena had given PC her famous Poo look ( from Kabhi Khushi Kabhi Ghum) meaning ' Whatever!' and continued with what she was doing.

There is also a personal angle. Kareena's ex-flame Shahid Kapoor had an on-off relationship with PC. Both the actresses avoid being seen together at the same place and at the same time. And in the past, there have been instances of how one would avoid having a run on with the other.

Hug Number Two: After going on record saying she didn't care about Salman Khan anymore following his alleged dismissal of all her overtures of peace, Priyanka Chopra was seen hugging and chatting at length with Salman at Riteish Deshmukh's birthday bash recently.

For the past four years, the two had refused to see eye to eye.

The feud between the two was attributed to Priyanka's budding friendship with  Salman's bete noire SRK.

Priyanka had even admitted on Koffee with Karan that she had no idea why Salman had suddenly grown cold to her.

But at Riteish's bash, the two surprised everyone by putting on an open show of warmth. " For the better part of the party, Salman stayed with his brothers in a corner.

Priyanka arrived in a short dress with her friends Shrishti Arya and Mubina Rattonsey.

She then walked up to Salman and hugged him, after which the two had a long talk," a source said.