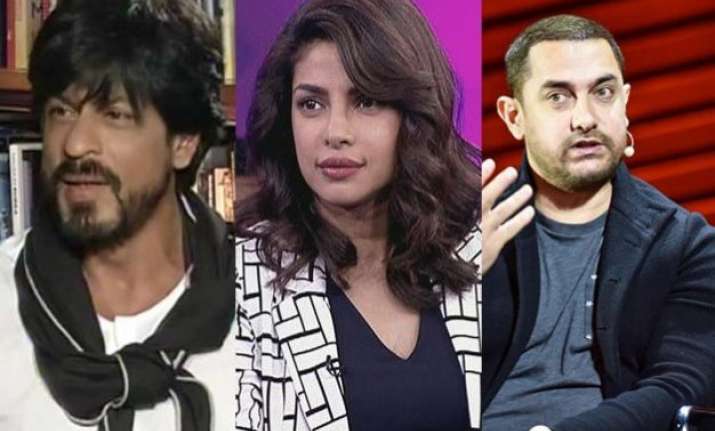 New Delhi: Bollywood, the entertainment hub of India, has become much more than that. Rather than being spectators to political turmoil, B-town celebrities are active participants in these debates. While it is a welcome change to see Page 3 people voice their opinion on burning issues, these stars are sceptical to do so too.
With an increasing number of film personalities voicing their opinion, the reactions to comments of dissent have been nothing short of a calamity. Aamir Khan's outburst saying that his filmmaker wife felt threatened due to increasing cases of intolerance and had even thought of leaving the country fell under severe criticism. His stand on the issue may have been the reason behind his replacement as the brand ambassador of 'Incredible India'.
Opinion voiced by Shah Rukh Khan on the matter of intolerance also drew the ire from certain quarters. "It is stupid… It is stupid to be intolerant and this is our biggest issue, not just an issue… Religious intolerance and not being secular in this country is the worst kind of crime that you can do as a patriot," he had said.
According to the actor, it may even have hurt his just released film Dilwale a great deal. Instances of creative people voicing their dissent is not new. Activists slammed the actor, many even turned him anti-national.
 It then comes as quite a surprise that filmmaker Karan Johar, who has touched upon some controversial subjects like homosexuality and extra-marital affairs, to come out openly at a time when his fellow industry mates have been at the receiving end. Today, Karan Johar joined this list of celebrities to question the idea of democracy and freedom of expression in the country.
 Speaking at the Jaipur Literature Fest on Thursday, Karan said that he found democracy and freedom of expression as the biggest jokes. As a filmmaker, he said, he felt stifled and threatened that an FIR will be filed against him, somewhere in the country for his statements in Jaipur.
 The outrage that these celebs face for their opinion gets one to think whether stars are often misunderstood. A few days back, actor Nawazuddin Siddiqui was slapped with a case in which a woman alleged him of misbehaving with her. Siddiqui filed a counter FIR over their false allegations and also said that it actors are easy targets in India.
Actress Priyanka Chopra added a different hue to this debate last December. In a candid conversation with a journalist, Priyanka expressed her grief over the politicisation of all issues. "This is not the India I grew up in. I will stand by actors and artists. Please stop using actors as political pawns," a strong headed Priyanka had said.
Moving from reel life Kashibai and going to Mastani, Deepika Padukone has some conflicting views. Deepika, in one of her conversations said that if it helps, then actors should discuss every issue. But, their discussions would not solve the problems in this country. (She said this in regard to the FTII issue.)
Adding to her view, actress Kalki Koechlin had said that there is a lot of pressure on actors to behave like role models, "For every actor to be an activist on everything is ridiculous."
B-town is obviously divided over issues, some asserting that it is their right to voice their opinions and some feeling that it isn't necessary that their discussions find a silver lining. Artists, authors and academicians have gone out of the way to express their opinion on matters of relevance.
However, film personalities have usually shied away from such controversies. Maybe, they have enough of their own. Or maybe not!