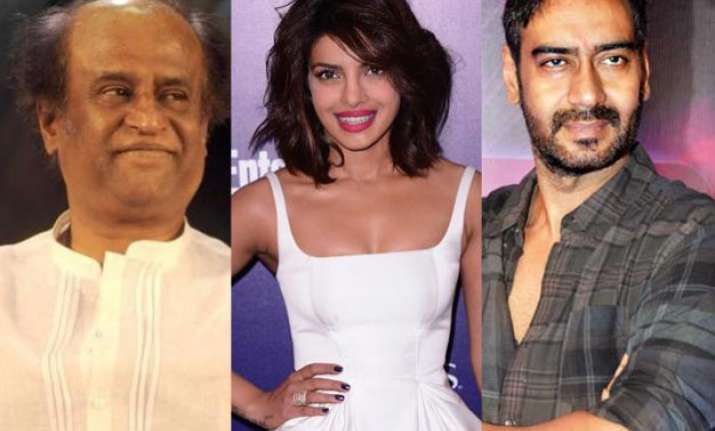 New Delhi: The list of winners of the prestigious Padma awards was announced by the government of India on Monday. The awards which are rewarded to the personalities for their exemplary service spanned over an array of fields, has many Bollywood celebrities in the list this year.
Over time we have witnessed that B-town celebs have moved beyond just providing entertainment and using their star power to bring about a change in the society.
Bollywood has become the pot-boiler of hot debates, a forum of discussions and not to forget the place where good deeds are incepted.
As we congratulate these personalities, let's have a look a brief career sighting why they were chosen.
Rajinikanth:
Thalivaa, as he is popularly referred to, is likely to be given with Padma Vibhushan. He is the star which appeals to the masses, his movies run house full and with every kick he lands on the villain's body the crowd cheers. He has over 160 films to his credit over a period of 35 years. His stardom is unmatched as his fans give him respect they would offer their deity. Not only a reel hero, his actions make him a real one to. His biography claims that he has given half of his earnings to charity, he used his star power to break the myths around eye donation; he actively participated in anti-corruption movements and regularly organises food camps for the poor. 
Anupam Kher:
Anupam Kher has worked in over 450 movies spanning 30 years. Rather than being nestled in his position of a highly acclaimed actor, Anupam has broken barriers. An active participant in debates, Kher is sometimes slammed for his opinions but that hasn't stopped him any way. Anupam Kher also runs a charitable trust by the name of Anupam Kher Foundation which aims to better the lives of underprivileged children.
Only recently, he was seen on many national channels discussing the plight of Kahsmiri Pandits who were forced to flee their homes on January 20, 1985. Anupam stood to his stance, despite receiving criticism, when India was boiling over the heated arguments over intolerance and the award wapsi was in full swing.
Earlier, Anupam was awarded Padma Shri by the Government of India for his contribution to Indian cinema and this year he will be conferred with the Padma Bhushan.
Anupam Kher took to Twitter to express his happiness saying that he is humbled.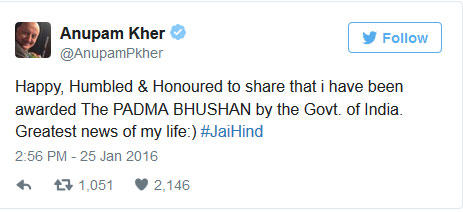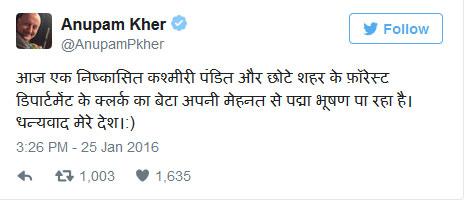 Udit Narayan Jha:
Singer Udit Narayan has sung melodious songs which have touched the hearts of millions. Not only in Hindi, Udit has sung songs in Bhojpuri, Kannada, Marathi, Tamil, Telugu, Malayalam, Garhwali, Sindhi, Punjabi, Odia, Assamese,Manipuri,Maithili and Bengali. He won three National Film Awards and five Filmfare Awards, making him the undisputed king of hit Bollywood numbers. In 2009, he was awarded the Padma Shri and this year will be presented with the Padma Bhushan.
Ajay Devgn:
The Singham of Bollywood will be awarded with the Padma Shri for his amazing contribution in cinema. He has managed to nail every role given to him, both on-screen and off-screen. While on the silver screen he leaves an impression with his performances, off-screen he is a loving husband and an adorable father. Ajay is donning the director's hat for his upcoming movie 'Shivaay'.
Ajay Devgn who is currently shooting in Bulgaria said, "I feel deeply humbled yet elated to receive such honor from my own country. This announcement today makes it special for me when I'm filming abroad for my new film "Shivaay". I'd like to acknowledge that Padma Samman puts an extra responsibility on me and I promise to serve my country for as long as I can."
Priyanka Chopra:
Bollywood's desi girl went the 'videshi' way a few years ago when she came up with a single with hit rapper Will.I. Am. Not stopping at it. She released another number with Pitbull and then bagged the lead role in American TV series 'Quantico'. Priyanka, has also been vocal about the burning issues of the country. Lately, she is seen speaking a lot about protecting the girl child and women empowerment. She has also strongly opposed the pay disparity everywhere. The 33 year old actress will be awarded with Padma Shri.