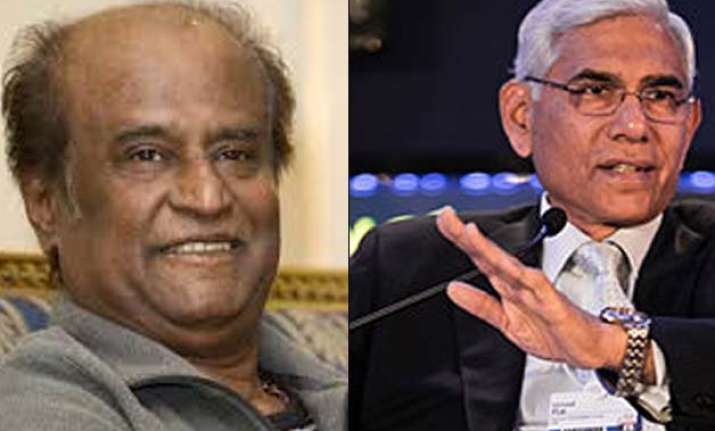 New Delhi: The list of the prestigious Padma awardees had been announced.  These awards are given in three categories, viz., Padma Vibhushan, Padma Bhushan and Padma Shri.
The award seeks to recognize distinguished and exceptional service in all fields such as art, literature and education, sports, medicine, social work, Science and engineering, public affairs, civil service, trade and industry etc.
Padma Awards are one of the highest civilian awards of the country which are given by the President of India.
 A total of 118 people has been honoured with Padma awards in 2016. India TV is the first organistaion to break the news.
Padma Vibhushan
1) Sri Sri Ravi Shankar: He is a humanitarian leader, a spiritual teacher, and an ambassador of peace. Her spreads his vision of a stress-free, violence-free society through The Art of Living.
2) Rajinikanth: The Tamil movie star did not restrict himself to regional cinema. He debuted in the year 1975 with a Tamil movie and since then he has done movie in Bollywood, Telugu, Kannada, Malayalam, Hollywood and Bengali films as well. Apart from being a superstar whose movies run houseful, Rajinikanth philanthropic deeds prove why he is a real hero as well. Recently, on his 65th birthday on 12th December he called off celebrations to mourn the loss Chennai faced due to floods. He is likely to be honoured with the Padma Vibhushan.
3) Girija Devi: An Indian classical singer of Banaras Gharana who helped in elevating the profile of Thumri. She was awarded the Padma Shri in 1972 and the Padma Bhushan in 1989. She is likely to be bestowed with the Padma VIbhushan award.
4) Ramoji Rao: C.V. Ramoji Rao, the publisher of Eenadu, single-handedly changed the way journalism was practised in the Telugu media. He made journalism a vehicle of the masses, with need-based content, racy language and attractive layout.
5) Late Dhirubhai Ambani: The founder of India's richest and most iconic Relaince Industries was honoured with he second highest civilian honour  posthumously.
6) Yamini Krishnamurthy : She is an eminent Indian dancer of Bharatnatyam and Kuchipudi styles of dancing.
Other awardess include former J&K governor Shri Jagmohan, social scientist Vishwanathan Shanta, Indian American economist Shri Avinash Dixit (Foreigner),former DRDO chief Dr. Vasudev Kalkunte Atre
PADMA BHUSHAN
Vinod Rai: Retired IAS officer and former Comptroller and Auditor General of India, Vinod Rai is credited with being the face of the anti-corruption movement in India for his scathing reports on allocation of coal blocs and 2G licenses.
Saina Nehwal: She is an Indian badminton player and the first Indian woman to have become the world's No. 1 badminton player.
R C Bhargava: R C Bhargava is the former CEO and current Chairman of Maruti Suzuki Ltd, one of India's largest automobile manufacturers.
Anupam Kher: The veteran actor has worked in over 450 films in a career spanning over 30 years. He is also known for his vocal support to the rights of Kashmiri pandits. He has featured in many Hollywood movies. Apart from acting in plays and movies, Anupam is a strong voice of India. He is an active participant in political debates and quite recently took it upon him to narrate the plight of Kashmiri Pandits in almost every eminent news channel of the country.
Udit Narayan Jha: Udit Narayan a known name in Indian film music has lent his voice to over 15000 songs in more than 30 different languages.
Sania Mirza. A famous name in India Tennis, who is currently ranked No. 1 in women's doubles rankings.From 2003 until her retirement from singles in 2013, she was ranked by the Women's Tennis Association as India's No. 1 player, both in singles and doubles
Barjinder Singh Hamdard: He is the managing editor of the Punjabi newspaper Daily Ajit. He has also been a member of India's upper house, Rajya Sabha.
Ram Vanji Sutar: A sculptor by profession and has created more than fifty monumental sculptures in the last forty years of his career. The government bestowed upon him the Padmashri Award in 1999.
Shri Tejomayananda: Swami Tejomayananda is the current Head of Chinmaya Mission Worldwide. He has been associated with the Chinmaya mission since 1993.
Other awardees are Yarlagadda Lakshmi, Heisnam Kanhailal,NS Ramanuja Tatacharya,D. Nageshwar Reddy,Indu jain,Shri Hafiz Contractor,Venkat Rama Rao Alla
Padma Shree
26/11 public prosecutor Ujjwal Nikam:  A lawyer by profession, Nikam is an Indian Public Prosecutor and has been involved in several high profile cases including the 1993 Bombay bombings, the Gulshan Kumar murder, the Pramod Mahajan murder and the 2008 Mumbai attacks.
Actor Ajay Devgn: Ajay Devgn nestles many talents in himself. He is a loved actor, critcally acclaimed director and a producer of many hit movies. Having starred in over 80 movies, Ajay is one of the most established actors of Bollywood. He has won two National awards, one of Zakhm (1998) and second for The Legend of Bhagat Singh (2002).
 Priyanka Chopra: Bollwyood's desi girl Priyanka Chopra won lauds from every corner of the globe with her debut American TV series 'Quantico'. With this thriller, Priyanka became the first Bollywood actress to play the protagonist in an American show. She bagged the People's choice award for best debutant. Closer home, she garnered tons of applause for her portrayal of Kashibai in 'Bajirao Mastani'.
  ( Details awaited)