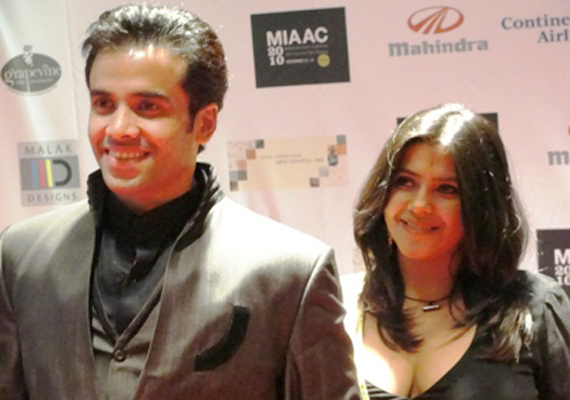 Mumbai, Feb 23 : Actor Tusshar Kapoor who has don the co-producer's hat for upcoming flick 'Char Din Ki Chandni' says since he and sister Ekta have independent outlooks towards making films there is no rivalry between them.  After producing immensely popular daily sops on small screen in 2001, Ekta ventured into producing films; her debut movie being 'Kyo Kii Main Jhuth Nahin Bolta'.

Though the flick bombed at the Box Office, Ekta tasted success as a producer with 'Kyaa Kool Hai Hum', 'Shootout at Lokhandwala', 'Love Sex aur Dhokha', 'Once Upon a Time in Mumbaai', 'Ragini MMS' and latest 'The Dirty Picture'.  Tusshar, who is co-producing the upcoming romcom 'Char Din Ki Chandni', directed by Sameer Karnik, goes candid on his producer sister.

"As far as her (Ekta's) mindset as a producer is concerned, she has different tastes..so whenever I would approve of investing in a film, she may not agree to it or vice versa. But whenever I need marketing ideas I would go to her as she has brilliant ideas. I would talk to her about what we should do for promotion of 'Char Din Ki Chandni'," Tusshar said in an interview.

In the backdrop of the actor slipping into the shoes of co-producer independent of Balaji Telefilms for 'Char Din...' and Ekta churning out the flicks under the home banner, isn't a clash of interest obvious between the siblings?

"If I start something then there can't be any rivalry as I have started it, it is not that we are buying films from outside...it is like we are making our own films. I don't have any rivalry...she makes it (film) or I make it...it is all in the family," the actor said.

"As far as criticism goes, she used to tell me that the kind of films I am doing is not right...It was a learning curve so it's ok. Same way the kind of films she was producing it I used to tell her it is not right. She also had to go to flops as a producer like I went through as an actor," Tusshar said.

About his new role as a co-producer for 'Char Din...', the actor says "I stepped in after seeing the film. It was just greed for money as I am not getting paid too much for this film as it is a solo film. It is not under any banner it is more like an individual. It is just an agreement between Top Angle Productions and me."

"I have invested some money as far as promotion etc is concerned as that will be repaid when the film releases so whatever comes in the form of theatrical profits I will have a small share in that," he said.

For the time being, Tusshar would continue to produce only those films in which he would act.  "As a producer, whenever I feel the need to produce a movie I will irrespective of whether I will act in it or not.  But earlier I would be partnering in those films where I am acting in also. Of course the long term plan is to have the time to make films that don't have me also in it," the actor said.

"Being an actor in 'Char Din Ki Chandni' I could see the film and that's why I could invest in it. There is control of certain things when you act, are on set as you know what is happening," he said.'Char Din ki Chandni' directed by Samir Karnik of'Yamla Pagla Deewana' fame is releasing on March 9.