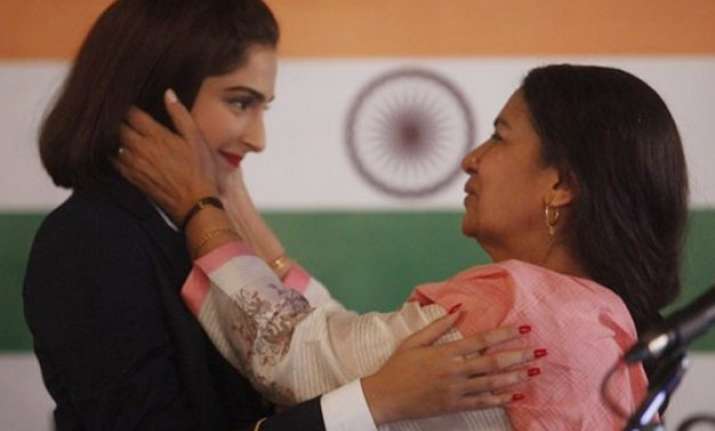 New Delhi: 'Neerja' a tearjerker movie having Sonam Kapoor in the lead role, has managed to strike all the right chords with audiences. Directed by Ram Madhvani, this movie can be rightfully labelled as Sonam's career best performance.
The movie narrates the heroic life of Neerja Bhanot, an airhostess who laid her life in a quest to save passengers on a hijacked plane. Pan Am 73 was hijacked by terrorists at the Karachi airport on September 5, 1986. As the head purser on the aircraft, Neerja, who was also a model, saved the lives of 359 passengers.
While the entire movie has been lauded for bringing the real life on on screen beautifully, we bring to you five scenes from the movie which will help you relive the movie. In case you haven't watched the movie already these scenes will make you believe why you shouldn't miss out on this one.
When gunned down:
The most awing scene of the movie was the one when Neerja was gunned down by bullets. Sonam's eyes reflect the bravery she beholds in her heart.
Rama Bhanot's speech:
Actress Shabana Azmi essayed the role of Rama Bhanot and it was her last speech which forced people to come out teary eyed of the theatres. In one of the making Neerja videos, the filmmakers revealed how filming the speech was one of the most difficult tasks.
When Neerja explains life:
You must have probably seen this scene in the trailer where Neerja tells a taxi driver that life shouldn't be long but worthy. This short scene tells a lot about her perspective towards life.   
When she bids goodbye at airport:
Neerja was in an abusive marriage but she fought with it and came out a survivor. Her relationship with Jaideep, played by Shekhar Ravjiani, proves that despite failing in it once she hasn't given up on love.
Neerja's calmness:
Despite being in grave danger of her life, Neerja remained calm during those trying hours. The way she thought on her feet when asked to collect passports of all passengers only testified that she was born a hero.