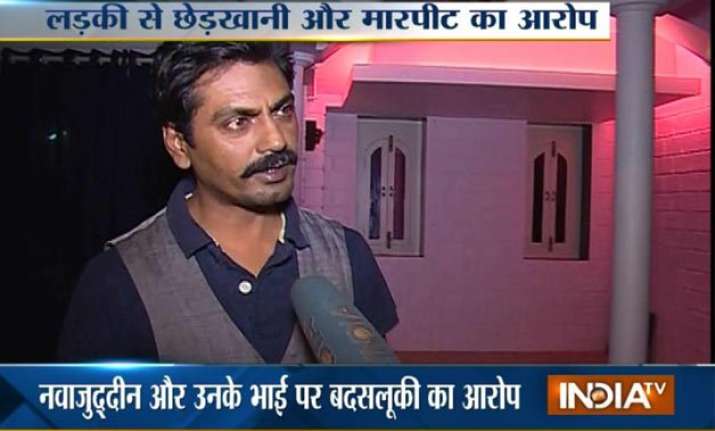 New Delhi: Bollywood actor Nawazuddin Siddiqui recently found himself in a legal problem after a woman accused him of assaulting her.
The 24 year-old victim, who stays in the same society as the actor and is the daughter of the society's secretary, also filed an F.I.R in the Versova police station alleging that the actor had pushed her and behaved inappropriately.
Reportedly, the entire feud began after a dispute over parking space.
Victim Heena Sheikh claimed that Nawazuddin Siddiqui has captured the parking space because of the extended portion of his office on the ground floor which often creates parking issue in the society. Infact, the actor was also asked to vacate the compound and was also sent notices in this regard. Heena alleged that instead of co-operating with the society member, Nawaz placed two bouncers in the compound to prohibit anyone from parking their car at his place.
She also alleged that Siddiqui slapped and molested her after she stood against him and tried taking his picture for further proceedings.
While the police have filed an F.I.R under section 354 of the IPC that deals with assault or criminal force to woman with intent to outrage her modesty, Nawazuddin Siddiqui has an entirely different story to narrate.
During an exclusive interview with India TV, the 'Badlapur' actor vehemently denied all the allegations against him and stated that he doesn't even know the girl who has accused him of assault and he is been targeted because of his celebrity status.
"I haven't scuffled with anyone. I don't even know this girl. She doesn't stay in my society. There hasn't been any dispute over parking so molesting someone is out of question. We actors are the soft targets and that is why we are targeted. There has been a dispute in the society over formulating a committee; however, there haven't been any elections there for over year. Infact, the present committee has been here for years and have been bullying the residents. Even secretary of the society has been a part of this bullying. The residents were quite upset with the committee and even called out a campaign against it. I too was a part of the campaign and this why we had a feud with the secretary after which he has targeted me with the molestation case. Car parking was never the issue," said Nawazuddin Siddiqui.
On the other hand, Siddiqui's wife Aaliya has filed a complaint stating that five unknown people comprising of three men and two women forcibly entered their house and created a ruckus and sabotaged the house.
Nawazuddin, while describing the entire incident, stated, "I was in the washroom when three men and two women forcibly entered my house. One of them belonged to the secretary's family. These people got violent and ran away after creating a ruckus. While me and my wife were preparing to file a complaint against them, an F.I.R was registered against me before hand to suppress me. I will co-operate with the police and I am sure truth will be revealed".
The police have filed a case over Aaliya's complaint against the strangers under the section 143,147,149,354, 452,506. While police is investigating both the cases, they haven't arrested Nawazuddin so far, however, he will be interrogated whenever required.