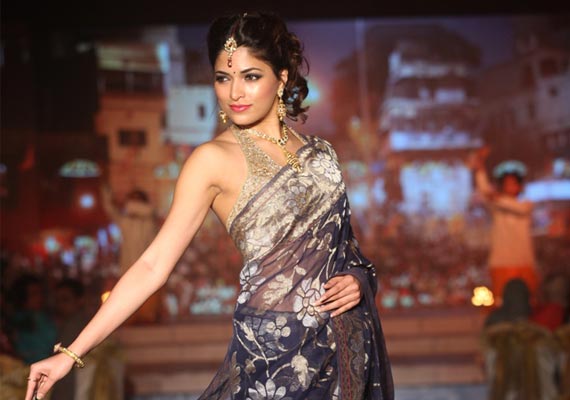 New Delhi, Aug 30: It was an evening dedicated to Benarasi saris where exquisite range of handwoven saris made in the oldest temple city in the country were presented by Taj Khazana, an in-house lifestyle store of Tata Group's Taj Palace, along with the Zoya, a diamond boutique to revive the dying art.
The new range, showcased here Wednesday, has been inspired by the temples and the infrastructure of Varanasi.
The city has been known for its silk saris, intricate designs made with golden and silver threads, but not it is losing its glory. Talking about the initiative and collaboration, Sarita Hegde Roy, COO of Taj Khazana, told IANS: "Well it was an obvious collaborations, not because it was the Tatas but the sari was inspired by Banaras and so was the jewellery and it was a good tie up. I hope people wear more sari and equally gorgeous jewellery."
"There is temple architecture, there is Ganga aarti and a wonderful take on how the city has come together. The saris have a very old story to tell. It is a very classically designed. Some of them, you might wonder are today's work but some of the (designs) are as old as 200 years. They are really wonderful designs that come back to life. Women today are wearing less saris these days," she added.
Flaunting some of the best hand woven six yards in the in shades of pink, turquoise, green, red, models Kalyani Chawla, Anjolie Ela Menon, Rupika Chawla, Niamat Bakshi, Chikki Sarkar, Shivani Wazir Pasrich and former Miss India Parvathi Omanakuttan walked the ramp.
The jewelleries by Zoya blended well with the saris as designs were a beautiful blend of gold and diamonds and other precious stones were too embedded in it.
A documentary was also screened showing how Taj Khazana funds the weavers and supports them to keep their legacy of handwoven saris alive before the fashion.
The initiative also gave an insight on how, handmade saris are worn by the staff of the luxurious chain of Taj resorts.