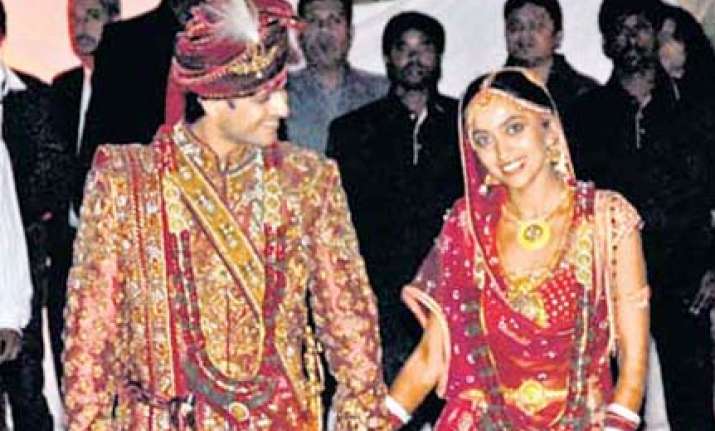 A large number of politicians including BJP leader Venkaiah Naidu attended Bollywood actor Vivek Oberoi's wedding in Bangalore on Friday night, reports MidDay.
However most of the Bollywood actors who were supposed to attend the ceremony, didn't turn up. Vivek will host a wedding reception in Mumbai.
The function started amid tight security, with around 60 police officers and 100 security personnel keeping watch on the gathering crowd of press and curious onlookers.
The marriage ceremony started at 5.30 pm with Vivek coming to the farmhouse, followed by his close friends.
The locals, who had waited for three hours to catch a glimpse of their favorite stars were disappointed because they didn't show up.
Even media persons were disappointed because the security didn't let them enter the marriage hall.
But it was the politicians who turned up in full force at around 7.30 pm. A politician who didn't want to be named said, "We want to take a look at Jeevaraj Alva's son-in-law."
The biggies to arrive were Karnataka Legislative opposition leader Siddaramaiah, BJP President Venkaiah Naidu, RV Deshpande, DB Chandregouda, Katta Subramanya Naidu, Narendra Babu, Roshan Beig and Mayor S Nataraj.
The few actors to turn up at the function were politician-cum-actor Ambareesh, and actors Sudeep and Ramya. Sushmita Sen and Sangeeta Bijlani followed closely.
Some fashion designers and dancers were also present.
This reporter spotted more members of the Alva family than Oberoi's. "Who is Oberoi? I thought he is the son of the owner of Oberoi Hotels," a bystander was heard saying.
Guests  rolled in one by one in expensive luxury cars, clutching gifts for the couple. Noted politicians and Bollywood actors created the most fuss for spectators, who had gathered in great numbers by about 7:00 pm.