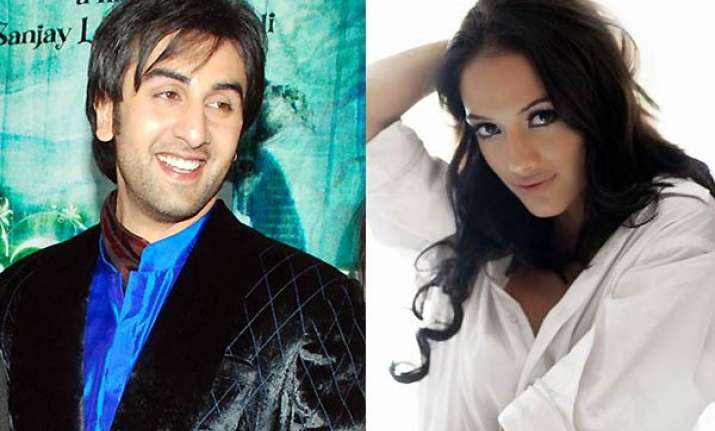 The new girl in Ranbir's life  is Kingfisher Calender model, Angela Jonsson, says a Mumbai Mirror report.

So, now, Ranbir has along list of ex- and current flames : Sonam, Deepika, Katrina, Nargis and now  Angela.

While half the female population of the country swoons over Ranbir Kapoor day in and day out, here's one girl who has monopolised the actor's attention and needless to say, free time.

On Moday, the young Kapoor was spotted at a city nightspot with Angela, says the report.

After Sonam Kapoor, Deepika Padukone, Katrina Kaif and Nargis Fakhri, who by the way has returned to USA, Ranbir Kapoor has been inseparable, if only for the last 15 days, with Angela Jonsson.

Angela  was the winner of the Kingfisher Calendar Girl 2011 Hunt.

Even Siddhartha Mallya, owner of Kingfisher Airlines, who is now dating Ranbir's ex Deepika Padukone, had once said about this 20-year-old girl, "She is a stunningly good-looking girl. She is a very sweet person and she radiates all that Kingfisher stands for."

The report quotes a source:  "The girl with Ranbir at Aer Bar was Angela. She was not only dressed in an understated dress as correctly mentioned by you in your story, but even her make-up was very light, just lipgloss."

Though, how Ranbir met Angela still remains a mystery, their growing friendship is definitely the talk of B-Town. "A few days ago, they were together at Anushka Sharma's birthday party, which was attended by a few select people. Sometime ago, they were also seen at the lounge bar Prive in Colaba," revealed the source.

The 5'8", 48 kilo Angela, born to Mangalorean mother and Icelandic father, aspires to make it big in Bollywood. For now, however, she has simply bought an apartment in Bandra not too far from Ranbir's Pali Hill bungalow, Krishna Raj.

Apart from going out with Ranbir every other day or rather night, the girl is learning Indian and Western dance forms. She is also improving on her Hindi. In fact, she is all set to enroll for a formal acting course.