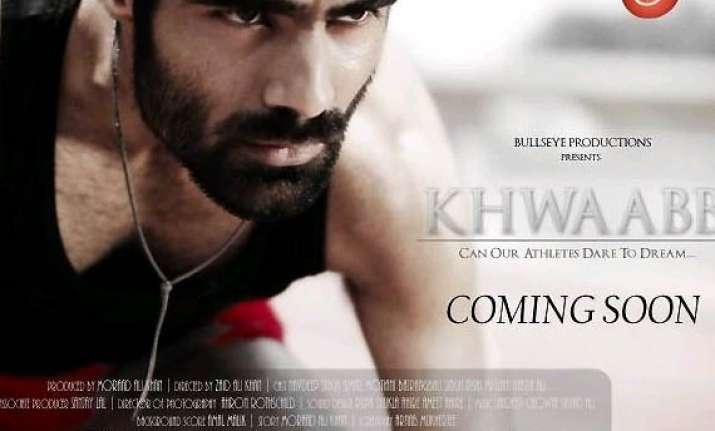 Chennai: First-time director Zaid Ali Khan, currently awaiting the release of his sports-drama "Khwaabb", says though making a sports-based film is challenging, it can provide all the elements required to make a screenplay gripping.
"Khwaabb", a Hindi movie which releases Friday worldwide, explores the sporting scenario in the country. It has been produced by Zaid's father and Arjuna awardee ace shooter Moraad Ali Khan.
"Sports films are immensely challenging to pull off but it provides everything a gripping screenplay needs. From action, drama, thrill, emotion and excitement, you can find all this in a sports film," Zaid told IANS in an interview.
He said sports have been one of the most underrated genres in Indian cinema because "a lot of the content produced is bound by the conventional ideas of what is likely to succeed commercially".
"Producers are calculative and careful, and a lot of money is at stake hence pushing the boundaries beyond the regular song, dance, and star-driven films is difficult. But with the success of 'Bhaag Milkha Bhaag', 'Chak De! India' and future prospects of the Mary Kom biopic, audiences have evolved and they are open for new content-based films," he added.
For the director, the struggle faced by Indian sportsmen was the biggest inspiration.
"I mean a nation of a billion can produce only a handful of medals... this film explores the reasons. It's an honest depiction of the sports scenario in our country," he said.
Why the focus only on less popular sports such as swimming and athletics?
"It was a screenplay device to take two different sports and develop character skills. Also a film based on swimming has never been attempted before in India. These sports worked well for the script and plot. Also, they were visually good for the film and hence the decision was taken," said Zaid.
"Having said that, I feel the presentation is such that people inclined towards other sports would also be able to relate to the story... the sports may be unique but the struggle of the athletes is universal," he added.
Quizzed about the impact "Khwaabb" will have on the audience, Zaid said: "The sad truth about sports in India is that we only know about a sportsperson when he or she comes in the limelight, but the encouragement has to begin as soon as their sporting journey starts. 'Khwaabb' is a step in that direction".
"It is for all the youngsters in schools, colleges who dream of sports, of success and sometimes find too many hurdles in their path," he said.
The film, which features newcomers Simar Motiani and Navdip Singh in lead roles, has been granted tax exemption prior release for its social message and inspirational quality.
While Navdip plays an athlete, Simar will be seen as the swimmer in the film and Zaid is all praise for his actors who worked extremely hard to get under the skin of their characters.
"Both actors worked incredibly hard, they trained with the top coaches and were working out with the best instructors. Playing an athlete requires a lot of physical work. Navdip really took on the challenge, he got into incredible shape. I think he reduced some eight inches on his waistline to be Sanjay, the runner," he said
"Simar trained with coaches, worked on her swimming. She swam in the rivers, pools and did everything to bring 'Kiran' the swimmer to life on screen," Zaid added.
Shooting underwater for hours and filming sports action across several international locales were some of the challenges debutant director Zaid faced in this journey.
"It had a lot of difficult sequences... it's not easy to shoot underwater for hours. For all the sports action, we had to travel across different locations from Delhi till Dubai. Filming sports action can be difficult because a regular film can be shot on nice comfortable sets, but we had to shoot in real locations," he said.
Despite the challenges, Zaid describes his first stint with celluloid as "excruciating, exciting and enriching experience of my life".