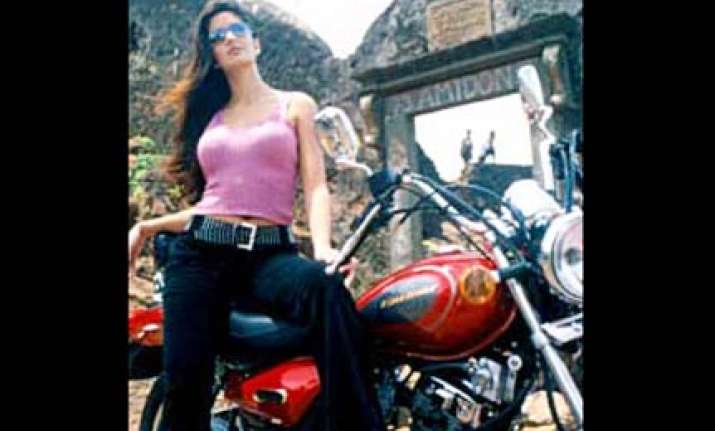 Bollywood star Katrina Kaif is nowadays honing her skills as a bikerider, according to a media report. 
Whether it's action king and co-star Akshay Kumar's daredevil streak that's rubbed off on the lovely actor or whether it's another co-star Hrithik Roshan's sense of adventure, it's hard to guess.
But the actor — who got her first taste of some bike action in Blue playing a biker babe — is now keen for more of it. So, while the actor did not get to ride sports bikes herself in Blue, she's not ready to pass up another opportunity to show her adventurous streak. Kat has learned dirt biking for her role in the forthcoming Zoya Akhtar film Zindaggi Milegi Na Dobara.
But not content with just the on-screen bike rides, she's taken to riding bikes even off screen now. In fact, a source reveals that recently while shooting in Goa, the actor would take off on a bike at every break between the shoots to practise riding the bike.
"We were mostly shooting during the night, so Katrina made the most of the free evenings by learning to ride the bike really well," said the source.
A close friend of the star too confirms this. "She's a closet daredevil and has an adventurous streak that not many know. She may come across as this delicate beauty, but t she can be really rough-and-tough too. 
She learnt dirt-biking for Zoya's film and now she's so addicted to riding, that she's keen on perfecting it and so practices it whenever she can," adds the friend. Well, now that Kat seems all set to join Bollywood's biker gang, we wonder if Sallu will mind her getting some expert tips from our true-blue Bolly biker.