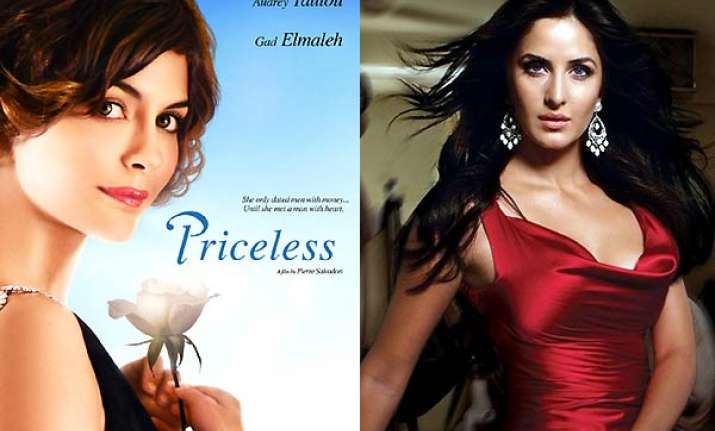 Bollywood star Katrina Kaif has practically abandoned plans to produce a remake of the French film Priceless, says a media report.

The French film had inspired Katrina Kaif's so much that the actress had decided to turn producer and remake the film for Bollywood.

The report said, there were rumours of Katrina casting her sister Isabel in the film.

But Bollywood people were unresponsive to this idea and the plan was ultimately abandoned, says the report.

Katrina had earlier said that she wanted to buy the remake rights of the 2006 French movie Priceless.And after months of going back and forth,the deal as of today,stands cancelled.

The people in question simply stopped reverting to the Bollywood actress.

"It was ridiculous.Katrina is an A-list actress in Bollywood.They should have dealt with the proceedings very tactfully,"revealed a source close to Kat.

"She gave lot of time and energy to this project.She had even thought of a few directors who could handle the subject beautifully.She has every reason to be exasperated now.She has given up on Priceless,"added the source.

However, Katrina is still dreaming of becoming a producer.

"She is very much open to other films.She is quite a film buff and sees a lot of foreign films.Who knows,she might even pick up a Hindi film and remake it,"informed the source.

Priceless is a 2006 French film directed by Pierre Salvadori.  The film was adapted from the 1961 Blake Edwards' film,Breakfast at Tiffany's.

The film revolves around a young gold digger,who by mistake woos a mild-mannered bartender thinking he's a wealthy suitor.The cast included the likes of popular French actress Audrey Tautou.