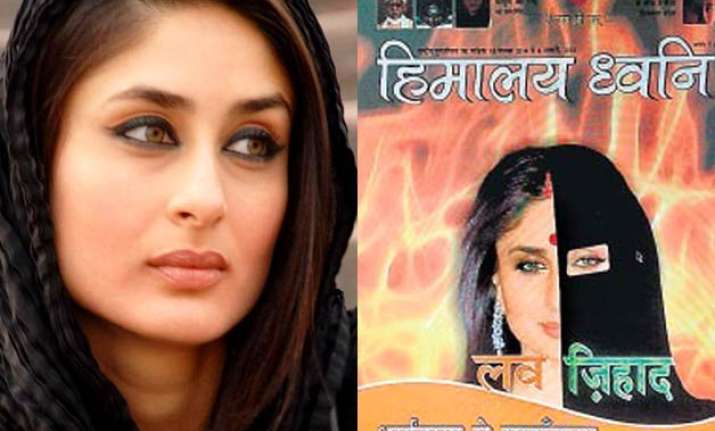 New Delhi: Vishva Hindu Parishad's (VHP) women's wing Durga Vahini has launched a campaign against love jihad by using a morphed photo of popular Bollywood actress Kareena Kapoor.
The magazine reportedly claims to address the issue of 'love jihad' and talks about reconverting Hindu women who married Muslim men.
On the cover is the morphed face of Bollywood beauty Kareena Kapoor half covered with a niqab. The photo shows half of Kareena Kapoor's face sporting sindhoor, while the other half is clad in niqab, with just eyes peering out.
The image which was used on the cover of the latest issue of Himalaya Dhwani also ran with the rider of 'conversion of nationality through religious conversion'.
The magazine focuses the re conversion of Hindu women, who are married to Muslims and connect them to the 'ghar wapsi' programme. In past Saif Ali Khan had cleared that he does not believe in the concept of 'love jihad'.
The report further suggests that because Kareena Kapoor is married to Saif Ali Khan and is a known celebrity, her fans might follow her.
Rajni Thukral, who brings out the magazine, was quoted in a leading daily as saying, "Sixteen Hindu women who married Muslim men posing as Hindus have approached us for ghar wapsi. We have already reconverted two. One has also been remarried".
BJP spokesperson Shahnawaz Hussain who himself is married to a Hindu has stated that many Bollywood personalities have had intercaste and interreligion marriages. So we should not create any such controversy, by commenting on such topics. BJP's ajenda is development and that should be kept in mind.