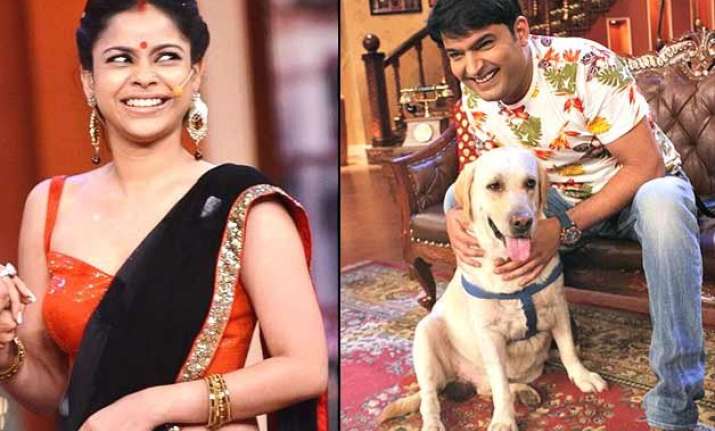 Changes in Kapil Sharma's Comedy Nights With Kapil after one year leap
New Delhi:
Kapil Sharma's 'Comedy Nights With Kapil' is set to take one-year leap. However, what would intrigue you more is the news that the comedian would finally get his kid.
If you are keen viewer of the popular show, you would be aware how adamantly Dadi wanted his son Bittoo to have a kid. Now since the show is confirmed to go a year ahead, shouldn't an extra member in Bitto Sharma's family be another good reason to enjoy the show?
Well, apart from various changes; what has also been ardently expected is a little new addition in the family.
Also, how about introducing Zanjeer (Kapil Sharma's dog) as another new member of Kapil Sharma's family?
Only because we know how doting master Kapil is for his pet, here's a request that he should make Zanjeer a permanent member of his on screen mad family. (Wouldn't that be just mind boggling?)
The other features of 'Comedy Nights With Kapil' that have been planned to get enrolled include Dadi aka Ali Asghar's mental stimulation. According to the reports surfacing around, Dadi will be seen having short term memory loss issues. Bua on the other hand, will end up leaving the family after winning lottery and flying to some foreign country for the rest of her life.
Two of the most entertaining members, Palak and Gutthi will have their own businesses. While Palak will be shown running her tailor shop along with mom Pankhudi, Gutthi will own a beauty parlour now.
And for the very aspiring jolt, Bitto's wife Manju will turn into a working professional from an all time annoyed housewife.
Well, what seem from these changes are great new transformations and more doses of comedy. However, all we are wishing is an addition of Bitto-Manju's baby along with Zanjeer in the TV show.
Don't you feel second to our wishes too?