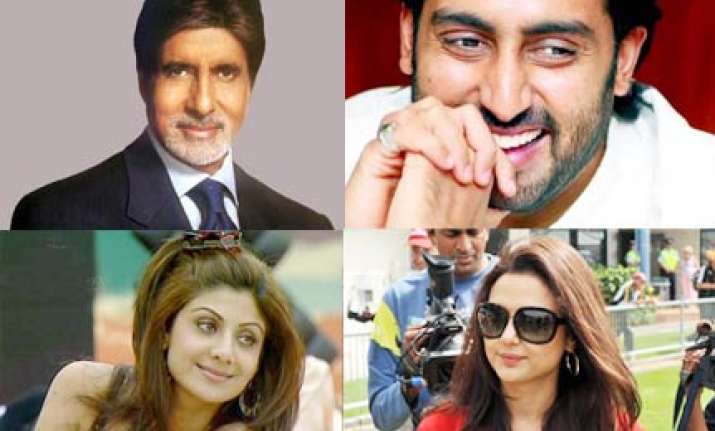 Mumbai, Oct 4: Bollywood may have been absent from the Commonwealth Games opening ceremony but the Indian film fraternity has given a thumbs up to the "spectacular" and "sensational" show put up by Indian artistes.
"India won again tonight at the Commonwealth Games. It struck up a fantastic opening event, defying all the criticism and pain of the last days. The show was spectacular and we need to be proud of all those that put in hours and years of hard work under most trying circumstances," Big B wrote on his blog.  
"Proud to be Indian now go win all the medals", he said. 
Abhishek Bachchan
, who was on his way home from airport, had all praises for the games and India.
"Saw some glimpses of the CWG opening ceremony... Looked sensational. So wonderful to hear that the CWG opening ceremony was awesome. Go India," Abhishek tweeted.
Days before, when the Games had come under fire from all quarters, even Bollywood personalities including actors Arjun Rampal, Shilpa Shetty and director Madur Bhandarkar had taken to twitter to show their displeasure.
"Aah! After all the flak the final result is spectacular at the CWG stadium it is awesome...heart swells with pride. Fingers crossed all should go well," Shilpa wrote on micro-blogging site, Twitter.
Arjun tweeted, "Welcome all countries enjoy your visit and the best hospitality in the world...the Indian hospitality and love. Go India. CWG opening ceremony making us all feel proud and is a reminder to all that sports and sportsmen are beyond politics."  
Terming the opening ceremony as rocking, actress Preity Zinta, tweeted, "All the best to all the athletes participating in the CWG. Hope India wins lots of gold medals. I am hoping to attend some games."  
Congratulating India for a spectacular opening ceremony, actor Riteish Deshmukh tweeted. "The opening ceremony was super duper show. It is great to see a huge cheer by the crowd to welcome Pakistan...mark of a good host...proud to be an Indian," he said.  He added, "Wishing loads of luck and success to all...Jai Ho." PTI