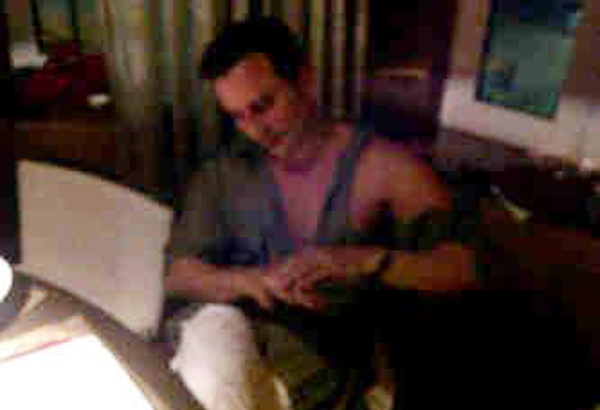 Mumbai, Feb 24: A mobile clip taken of the Tuesday night fight at the restaurant in Taj clearly shows that it was not Saif Ali Khan alone who was the culprit by landing a punch on  South African NRI businessman Iqbal Mir Sharma. It was the other way round too.

The mobile clip shows, Saif with a broken tooth, crashing on to a sofa, and nursing a black eye with his T-shirt torn.

According to staff who were present inside the restaurant, it was Iqbal Mir Sharma, who first went up to Saif's table and asked the guests to tone down their voices, and Saif gesturing at him to go back to his table and said, if he wanted peace he should go visit a library.

"Iqbal then had an argument with Kareena, Karishma and Amrita sitting at the table. Iqbal then passed some objectionable comments about Kareena. As Iqbal continued to stare angrily at Saif, the latter gave him a punch on the nose. At that point of time, both Iqbal and his father-in-law pounced upon Saif. The actor fell, and he lost a tooth. He had injuries on his chest and shoulder too.   Iqbal landed a punch on Saif's left eye."

Speaking to mediapersons, Saif said he did not want the matter to be highlighted, but it was the opposite party which went crying around town.

Says Amrita Arora Ladak, who was prsent there with Saif: " It's  sad that  celebs are made victims for other people wanting their 15 minutes of fame. What happened was unfortunate, but anyone would have reacted to the way the women were spoken to. The men did what any normal person would have done, celeb or no celeb."

Says Vishal Dadlani: " It's unlikely that Saif hit that guy without extreme provocation. At times hecklers get so obnoxious/personal/aggressive, that one has to react."