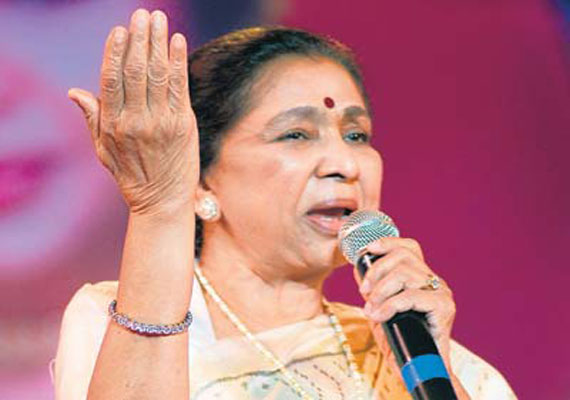 New Delhi, Sep 8 : Veteran singer Asha Bhosle, the melodious voice behind classic numbers like 'Chura liya hai tumne', 'Dum maaro dum' and 'Mera Kuchh Saamaan', says she has cut down on Bollywood singing as the songs she is offered lack melody.
Asha, who celebrates her 79th birthday today, has sung more than 12000 songs in a career spanning more than six decades. She continues to inspire young generation of singers but dislikes too much use of technology in music.  
"I now take up very few playback assignments because I don't enjoy it that much anymore. Everything is computerised now and today's songs lack melody.
"Somebody offered me a song 'Dil ke jhopdi mein mashal jala de', which I refused. I can never sing songs like 'Halkat jawaani'. I don't need to prove myself anymore," Asha told PTI.
Renowned for her voice range, Asha has worked across genres—film music, pop, ghazal, bhajan, Indian classical, folk songs, qawwali and Rabindra Sangeet. Apart from Hindi, she has sung in over 20 Indian and foreign languages.  
Asha, who began her playback career with cabaret songs, feels that lyrics have become more vulgar in Bollywood.
"I remember during the recording of 'Piya tu ab to aaja', lyricist Majrooh Sultanpuri left the recording studio saying, 'what will my children say when they hear the song?'
"I too don't want to sing songs which can make my grandchildren feel ashamed of me. I like to connect directly with my audience through stage shows now," the Dadasaheb Phalke winner said.
Asha, whose international collaborations include English singer Boy George and boyband Code Red, is working on her new album which will release by this year.
The versatile singer feels that there is no one in the industry today who can take her place.
"There is no one because I have sung all types of songs in different styles, in different languages. I have sung Russian, English... I have sung songs in Malayalam and all types of songs. I haven't seen anyone who has done that," she said.
The singer is also making her acting debut with Marathi film 'Maaee' this November, playing a woman who is abandoned by her only son in her twilight years.
"I had a great time working for this film... If every woman doesn't cry while watching the film, then I will change my name. But this is my first and last film as an actor," Asha said.
The singer, who began her playback singing career in the shadow of her elder sister Lata Mangeshkar in the late forties, successfully collaborated with music directors such as OP Nayyar, Sachin Dev Burman, RD Burman, Khayyam and Bappi Lahiri, giving Hindi cinema some of its most memorable songs.
The singer has also worked with younger music directors like AR Rahman and
Anu Malik
in the nineties for films like "Baaazigar", "Rangeela" and "Taal".
Having done playback singing for over a thousand Bollywood movies, the Padma Vibhushan honouree has also recorded several private albums like 'Janam Samjha Karo' and participated in numerous solo concerts in India and abroad.
She is also a successful restaurateur and is all set to open a new branch of her restaurant Asha's, in Kahira this November.
Asked about the secret behind her energy, Asha said,"There is no secret. I cannot live without music. I keep singing all the time, which gives me energy."