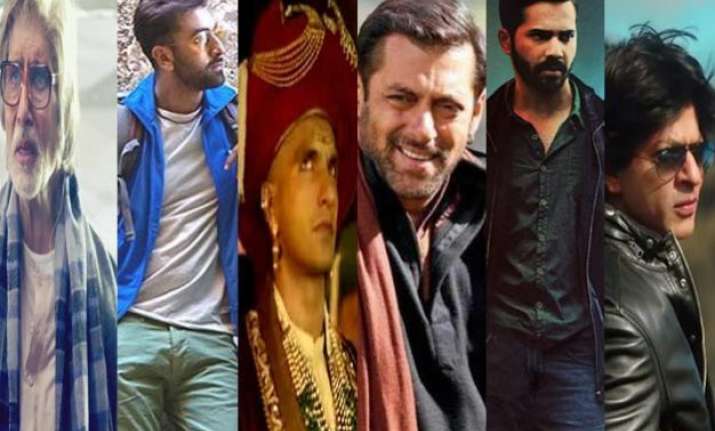 New Delhi: The coveted 61st Filmfare awards were held at the Yash Raj studio in Mumbai at a glittering ceremony yesterday. Despite the presence of other award ceremonies, Filmfare continues to be regarded as one of the biggest and most coveted honours in the film industry.
This year, the award for the best actor has been given to Ranveer Singh for his role in Bajirao Mastani.
Ranveer Singh was lauded for his role as the Peshwa ruler in Bajirao Mastani by one and all. Anil Kapoor compared him to Russell Crowe, Amitabh Bachchan sent him a hand-written letter and the entire film fraternity just couldn't stop singing his name.
While this win is a well deserved one; let us take a look at his competitors for the black lady.
Amitabh Bachchan – Piku
It is a big deal for anyone to be nominated with the megastar for an award. In the year 2015, Big B impressed us all with his portrayal of Bhaskar Banerjee, a Bengali old man suffering from chronic constipation. His character, totally dependent on his daughter, was loved and hated in equal quantities. Undoubtedly, Big B made it difficult for viewers to leave seats when he came on screen.
Ranbir Kapoor – Tamasha
What looked like a failed year for Ranbir Kapoor changed when Imtiaz Ali's Tamasha released. As a man torn between his heart and mind, Ranbir delivered one of his career best performances. His story-telling acts in the movie stayed with the audiences for a long time.
Salman Khan – Bajrangi Bhaijaan
Well, it may come as a surprise to you but this Bollywood superstar has never won a Filmfare. This year, Salman broke all the clichés surrounding him and shed his action image to play the role of a simpleton in this Kabir Khan directorial. His performance left everyone in tears making Bajrangi Bhaijaan undoubtedly one of the best movies of 2015.
Shah Rukh Khan – Dilwale
Even though this Rohit Shetty directed film opened to bad reviews, Shah Rukh Khan's performance was loved by one and all. Despite the weak plot, it was SRK who intrigued the audiences for two and a half hours with his two-in-one act.
Varun Dhawan – Badlapur
Varun Dhawan shed his lover boy image and took a big risk with Badlapur. As a man who lost his wife and child to a gangster, Varun's character was filled with dark shades. Despite the presence of an extremely talented actor Nawazuddin Siddiqui, Varun did a good job at holding his own and not fade away.