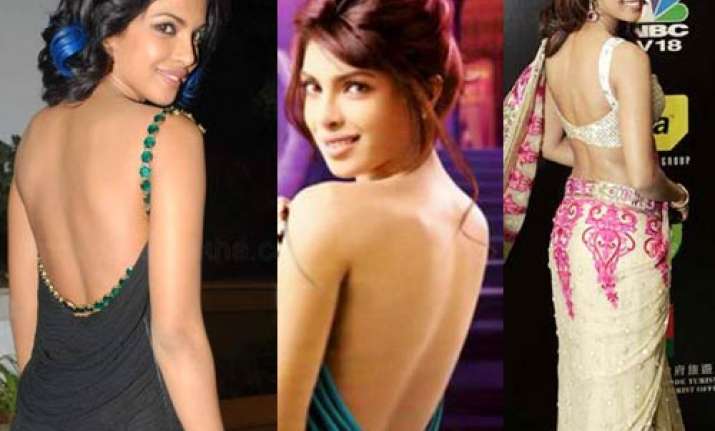 When the film hits the screens, the viewers of Saat Khoon Maaf will feel that they are watching Priyanka Chopra's bare back but here's the truth: it's not her. The actress has not shot for that particular scene, a body double has, reports Mumbai Mirror.
The body double was flown to Coorg, where the scene in question was shot. It's necessary to specify that while exposing her back, the body double was covered in the front.
Say a source, "That scene has Priyanka and Naseeruddin Shah's son, Vivaan in it and Priyanka is playing the role of a woman between the age of 38 and 40. Vivaan's character goes to Priyanka's room. On seeing him, she drops the gown she is wearing."
Elaborating further on the scene, the source adds, "At this juncture in the film, Priyanka's character has lost her mind. She wants validation of her beauty. Yes, Vivaan doesn't play her lover in the film, but Priyanka's character is too stressed at the point. She wants constant reassurance that her body is beautiful. And hence, she drops her clothes in front of Vivaan."
But guess what? The decision to include a body double did not come from Priyanka. It was director
Vishal Bhardwaj
who felt that he should shoot with a body double.
Why? Adds the source, "Priyanka's body is taut and extremely toned. She is a very fit girl. Even though she is 28 years old now, her back can't look like the back of a 38-40 year old woman."Priyanka was kept in the loop about a body double substituted her in that scene.
What comes to mind is the time when Manisha Koirala claimed a body double had been used in Ek Chhoti Si Love Story, without her prior knowledge and threw a fit about it.