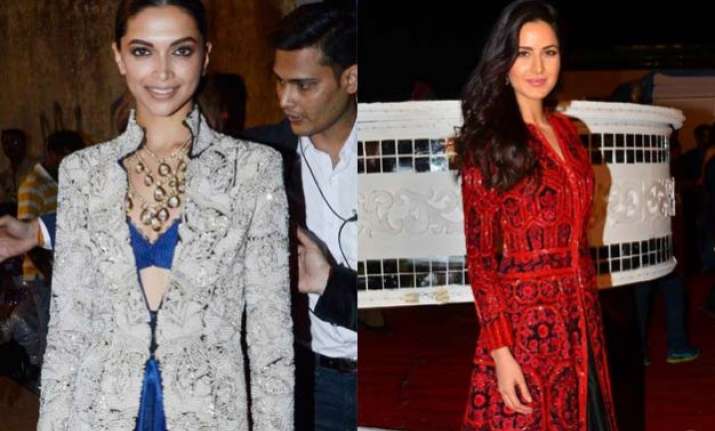 New Delhi: Deepika Padukone and Katrina Kaif are not actresses who like each other's company. At loggerheads most of the times, they have, on more than one occasion, taken a dig at each other through their statements.
For obvious reasons known to all, Deepika and Katrina – Bollywood's most sought after heroines – don't see eye to eye with each other.
However, we have reasons to believe that the two are actually soul sisters. While tabloids are filled with gossips of the enmity between the two, we bring to you a list of five reasons behind Kat and Deeps being close despite being miles apart.
This had to be the first reason. Deepika and Katrina have both dated the Kapoor scion. Both pairs, Deepika-Ranbir as well as Katrina-Ranbir garnered loads of attention. The two ladies were deeply in love with him but had to end their bond. While it has been a while that Deepika broke up with Ranbir, Katrina and Ranbir's split has been gaining a lot of media attention since last week.
Style:
What convinced us that Deepika and Katrina are much alike was their recent public appearance. At the Umang festival, held in Mumbai on January 19, both gorgeous ladies donned almost the same attire. While Deepika chose to add the bling factor with a heavy neckpiece, Katrina opted for less jewellery and kept it simple.
Their bae's favourite:
Every time that Katrina and Deepika's boyfriends spoke about them, they were all praise. Yuvraj Singh, Siddharth Malya, Ranbir Kapoor and Ranveer Singh - all of Deepika's boyfriends have gone gaga over her. Same goes with Katrina. Ranbir and Salman Khan couldn't just stop gushing over her when they were together. We wonder what charm these ladies possess that never fades away.
Public statements:
There is an uncanny resemblance in the statements of Katrina and Deepika. On the professional front, these two know well how to shut people who think they aren't more than pretty faces. Recently, Katrina stood up for herself when she said that it took a lot of hard work for her to reach the position where she is in today and it pains her when she is not credited for it. Deepika is often seen bashing critics who say things about her. Though both are vocal about their professional views, they prefer staying guarded when it comes to personal life. Maybe, they like keeping it to themselves away from the prying eyes of paparazzi.
Sans Salman connection:
Deepika and Katrina have attained a lot in the film industry. While most of the heroines like to be associated with superstar Salman Khan in one way or other, both have opted to maintain distance from him. While Deepika has never starred in a movie with Salman, Katrina has no such plans in the near future. In fact, it is rumoured that Kat who was suppose to promote her upcoming movie 'Fitoor' on Bigg Boss, has opted out of it.