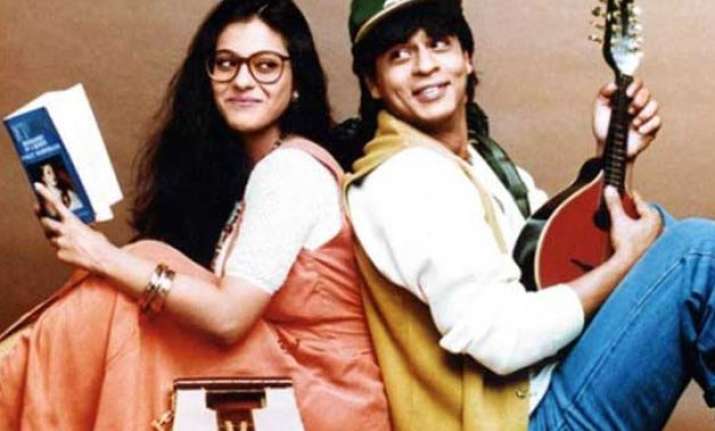 New Delhi: Today marks the 20th anniversary of the longest running movie of Indian film industry 'Dilwale Dulhaniya Le Jaayenge'. Most of the movie watching crowd believes that this Shah Rukh Khan- Kajol starrer is probably the best romantic movie ever made in India.
Fans of the movie have memorised the dialogues, every girl dreams of being Kajol's Simran and having a beau like Shah Rukh's Raj.
The actors also testify that this was the movie which built their careers.
As DDLJ completes 20 years we tell you all about how Shah Rukh felt after the movie's grand success (year). While talking to Filmfare in one of the exclusive interviews, the King of romance accepted that he was not comfortable with the genre at all.
In his interview he said that his wife Gauri Khan did not believe in the plot at all. She felt there was no story but he thought that DDLJ was not made of stories but subtle moments. He said, "I'm like Raj in the film, I live recklessly like him. Like Raj who was so confident about winning over Simran's parents, I knew I would win over her parents and Gauri would be mine."
Shah Rukh also accepts that Raj is the closest role he has essayed, "Of all the roles I've done so far, I can completely identify with Raj in Dilwale and the guy in Kabhi Haan Kabhi Naa. My marriage was straight out of Dilwale . . . like Dilwale . . . I also got married according to Hindu rites. There was an elaborate sangeet just like in the movie."
Talking about how this movie changed his phenomena in the industry he said, "There was a time when I used to say that I wish I had a Sholay or a Hum Aapke Hain Kaun in my life. Today, I don't have to say that anymore. I have a Dilwale . . . Now I'm happy when others say that they want a Dilwale to happen to them. That has become a yardstick of success. It thrills me no end."
No doubt, Shah Rukh Khan immortalized 'Raj' in the movie. This movie has given relationship goals to many generations and we are sure it will do the same for many more to come.