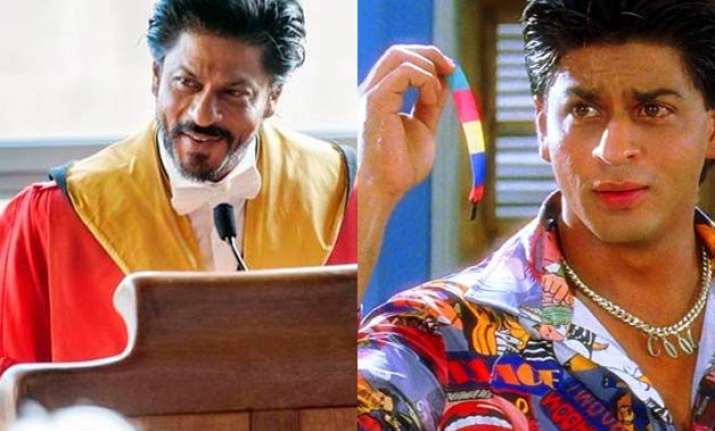 New Delhi: Shah Rukh Khan is one of the most celebrated actors in Bollywood industry for the reasons known to all. From struggling days to road of stardom, Shah Rukh's Bollywood journey has made him a wise and experienced man.
Recently, when he was at University of Edinburgh to receive the honorary degree of Doctor Honoris Causa, he shared his pearls of wisdom with the audience present there.
Shah Rukh weaved his speech with the references from his movies like Deewana, Kal Ho Na Ho, Chak De India etc. King Khan presented the listeners with 'life lessons' he learnt from his movies, in both intelligent and humorous way.
Here are Shah Rukh Khan's life lessons from his 10 famous movies:
1. Deewana
Madness (of the particularly nice/romantic kind) is an absolute prerequisite to a happy and successful life. Don't ever treat your little insanities as if they are aberrations that ought to be hidden from the rest of the world. Acknowledge them and use them to define your own way of living the only life you have.
2. Darr
Don't let your fears become boxes that enclose you. Open them out, feel them and turn them into the greatest courage you are capable of. I promise you, nothing will go wrong.
3. Kabhi Haan Kabhi Naa
Confusion is the route to all the clarity in the world. Don't worry about it too much and don't ever take yourself seriously enough to be so clear about your own ideas that you stop respecting other people's.  
4. Guddu
Life lesson number four rears its head: Give of yourself to others. And while you're at it, make sure you realise that you aren't doing anyone any favours by being kind.
Regardless of how rich, successful and famous you become, don't ever underestimate the grace that other people bestow upon you just by being the recipients of your kindnesses.
5. Kuch Kuch Hota Hai
When life hits you with all the force of its resplendent rage, the Rolls isn't going to give you comfort. A friend's grace will, and if you can't find resolution as easily as you would like to, don't panic. Everything evolves as you go along.
6. Ram Jaane
All the names you give yourself, or those that others call you, are just labels. You are not defined by them no matter how flattering or uncomplimentary they are. What defines you is your heart.
7. Chak De
Whatever it is that is pulling you back, its not going away unless you stand up and start forging your own path with all your might in the opposite direction. Stop whining and start moving, so to speak. Sadness and happiness have the same quality of transience. Life is a balanced exchange of one with the other.
8. Kabhi Khushi Kabhi Gham
Don't attach yourself to either, they're both going to change with the same certitude. Take them with the ephemeral spirit of their impermanence and manage them with a healthy dose of good humour. Laugh at yourself when you are despairing, shed a tear or two when one of my movie plots makes you hysterical with laughter.
9. Dil Se
Live from the heart. Dil Se. Love. Love people, love the world around you, love animals and birds, and big cities and mountains, love dreams, love life, love your work, your friends and your enemies even if you feel least like it. Most importantly, my friends; love yourselves.
10. Kal Ho Na Ho
Live today. You may not see it with your youthful eyes, but NOW is as much time as you will ever get. Because tomorrow we will all be dead. And just in case there is no cycle of rebirth etc…why take a chance.